Fear and Loathing in Balochistan 
Terror attacks and violence continues to plague the province – and the Hazaras bear the brunt of the danger.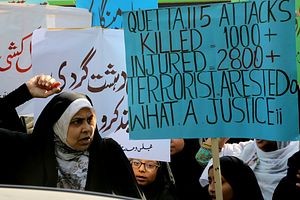 In Balochistan, bad news always keeps coming, despite the government's near daily assurances about restoring peace in the province. Now, once again, Balochistan's situation is going from bad to worse. There have been sporadic assaults on the security forces in Balochistan's northern belt, the areas dominated by Pashtuns. There are reports of banned religious outfits regrouping and gaining momentum, too.
But the worst news that always comes out of the province is that of the Hazaras. Once again, they have been targeted in a suicide attack, this time at Quetta city's vegetable market, in Hazarganji. Reportedly 20 people were killed in the April 12 attack, including Balochs and Pashtuns as well. Once again, Hazaras took to the streets to protest against the killings. The protest ended with assurances from the government about completely implementing the National Action Plan (NAP), a blueprint for ridding Pakistan of terrorism and militancy unveiled in 2014 after the tragic attack on an army school in Peshawar. Ironically, on the same day this promise was being made, another blast in Chaman killed two people and injured at least 10 others.
In another recent incident, on April 18, 15 to 20 militants dressed in military uniforms offloaded 14 passengers from a bus and shot them to death one by one on Makran Coastal Highway. The attack took place at Ormara, a coastal town in Gwadar district.
The Baloch Raaji Aajoi Sangar (BRAS), an alliance of armed Baloch separatist groups, claimed responsibility for the attack.
"Those who were targeted carried [identification] cards of the Pakistan Navy and Coast Guards, and they were only killed after they were identified," said Baloch Khan, a BRAS spokesperson.
Government and security officials have not yet confirmed the attack as of this writing.
It has been reported that the BRAS has vowed to unite the Baloch separatists in order to target projects under the China-Pakistan Economic Corridor (CPEC), which hinges on Gwadar port in Balochistan.
While the violence in Balochistan can be deadly for anyone, it is a daily concern for the Hazaras, a peaceful minority Shia community originally native to Afghanistan. Following mass killings among the Hazaras at the hands of then-King Abdur Rehman Khan of Afghanistan, they fled to Quetta, where they settled on the eastern and western sides of the city. Again in the 1990s, when the Afghan Taliban ruled, Hazaras were also killed because they follow Shia Islam, not the Taliban's hardline Sunni Islam. This triggered another wave of migration to Quetta. But unfortunately, the migrants could not know that they were merely trading one form of insecurity for another.
Over the last two decades, the Hazaras have not been able to take a sigh of relief. Instead, they have gone into isolation, forced into ghettos in two congested towns: Marriabad and Hazara Town. If they venture out of these towns, they are afraid of being shot. They live with the fact that their lives are always at stake.
Due to sectarian violence, there are only a handful of Hazara students – mostly women — in the local universities of Quetta. They do not leave the university grounds until or unless they leave for their homes on the buses. Most Hazara students are studying in universities outside of Balochistan, in Punjab and Sindh provinces. Even while leaving for Karachi for their studies, Hazara students have also been targeted and killed.
Under these dire circumstances, thousands of Hazaras have left the country. A great number left illegally by using the dangerous sea route. In the past, there have been reports of capsized boats carrying Hazara refugees. Many lost their lives.
After the most recent attack, Balochistan's Chief Minister Jam Kamal Khan Alyani and former Minister of State for Interior Shehryar Afridi visited the camp of Hazaras on Western Bypass Road to give assurances of state protection. And on April 21, Prime Minister Imran Khan went to Quetta to meet members of the Hazara community. Before the grieving families of attack victims, he too repeated promises to ensure the NAP was fully implemented and pledged that the day was coming soon when Pakistan would enjoy peace.
But Khan's visit sparked a backlash among those who believe his government's response to the attack and ensuring Hazara protests was lackluster. For one thing, Khan visited Quetta more than a week after the attack, and only following public criticism. Many Pakistanis pointed out on social media that New Zealand's Prime Minister Jacinda Ardern was quick to reach out to her country's Muslim community and reassure them following the Christchurch attack. So, they asked, why should Khan not reach out to the protesting Hazaras in Quetta?
Another sore point: Khan, instead of visiting the Hazara victims' families at their homes, asked them to come to a local university, where he lumped his task of consoling them over the loss of their loved ones in with a ceremony for the groundbreaking of a new housing scheme. The prime minister faced some criticism for not bothering to visit Hazara Town while he was in Quetta.
There is both helplessness and hopelessness among the Hazaras of Quetta. Hazaras say they are fed up with making the same demand time and time again: justice. So far, nothing has happened in this regard. That is why they take to the streets to protest against the killings of their brethren. Even this act is tinged with futility – according to many Hazaras, they march just to record their protest, knowing that nothing is going to change.
Similarly, the state also seems to be helpless to protect its Hazara citizens. For instance, a Pakistani daily recently reported that the Tehreek-i-Taliban Pakistan's footprint is increasing across Balochistan province. A few days later, the attack on Hazaras took place.
Nevertheless, security officials insist that they have been carrying out actions against the perpetrators of such violence. This is why, officials add, unlike in the past, there are only sporadic attacks on the Hazaras. Security forces claim to have carried out intelligence-based operations inside and outside of Quetta against Lashar-e-Jhangvi elements, who are involved in the Hazara killings.
Although Balochistan has been a tolerant and pluralist society, it is now factionalized. There is hardly any public gathering with Hazaras, other than efforts to show solidarity with them during their protests. This has further pushed the Hazaras into isolation.
During his visit to Quetta, Prime Minister Khan announced a 5 percent quota in the Naya Pakistan Housing Scheme for those families of Hazaras whose loved ones have been killed in terrorist attacks in Balochistan. Although it a welcome initiative, this is not going to stop the killings of Hazaras, nor can it save Hazara children from being orphaned.
Muhammad Akbar Notezai works with the Pakistani daily Dawn.