How Mutual Intellectual Exchange Fell Victim to US-China Competition
Competition between the U.S. and China is closing off avenues for intellectual exchange.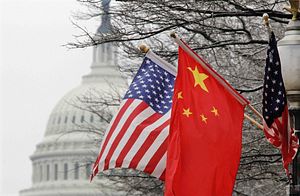 If the idea that the United States and China are engaged in open competition may have been controversial a few years ago, it is no longer so.
Starting in 2017, Washington openly acknowledged that "great power" competition was back and Beijing, while less explicit, has all but reciprocated.
While breathless suggestions of a new "cold war" might be overstated – indeed, there are several features of the first cold war that are not present in today's U.S.-China dynamics – we are beginning to see barriers rise to mutual understanding between the two countries.
First, Zhu Feng, a well-known Chinese international relations expert, was denied entry to the United States. When questioned by American authorities about whether he could declare any involvement with the People's Liberation Army, Zhu issued a denial.
Second, Michael Pillsbury, a right-leaning American China hand who has advised U.S. President Donald Trump, was not issued a visa to China in time for a conference in Beijing. Like Zhu, he has travelled to China for decades.
Beyond Zhu and Pillsbury, there are signs of a deeper chill in not only U.S.-China intellectual exchanges, but with Western countries allied with the United States and China more broadly. Here, the tragedy and unjust treatment of Canadian scholar and former diplomat Michael Kovrig is central.
Kovrig and his Canadian compatriot Michael Spavor, a businessman, have spent more than 100 days unjustly detained without a formal charge, all in retaliation for Canada's compliance with the U.S. Department of Justice's pursuit of Huawei chief financial officer Meng Wanzhou.
Taken together, we're witnessing both China and the United States – through different means – uproot the sort of connections that arguably should exist at a time of major geopolitical competition between the two countries.
Independent scholars and experts can provide an important source of insight into ongoing processes in both countries as official channels become imbued with scepticism and hostility. For instance, in China, scholars like Zhu, who do maintain official ties despite their denials, were once an important source of insight for leaders on the nature of the United States.
But U.S. authorities are open about erring on the side of caution when it comes to the ambiguous and plausibly deniable relationship that many Chinese scholars – particularly influential ones – maintain with the party-state.
Christopher Wray, director of the U.S. Federal Bureau of Investigation, has openly said that from a counter-intelligence perspective, he sees "a whole-of-society threat" from China that required a "whole-of-society response". Zhu's experience at the border is but one slice of this; the recent ousting of three ethnically Chinese scientists at a Texas hospital receiving U.S. federal funding is another.
Kovrig and Spavor's destinies meanwhile should rightly serve as a deterrent for Western scholars from travelling to China if they have any reason to believe or fear reprisal by the party-state for their work. Both men were swept up arbitrarily as they became geopolitically convenient targets.
What's clear in this environment is that China-U.S. intellectual exchanges will increasingly not take place on either American or Chinese soil. Third countries will become an increasingly useful venue for important types of bilateral unofficial exchanges.
Indeed, last fall, I found myself at the centre of such an exchange in Russia. Candidly, organisers acknowledged just how challenging it had become to bring Chinese to America and Americans to China.
Competition is today's reality, but allowing geopolitics to freeze intellectual exchange between Washington and Beijing is dangerous. Now more than ever, it's important for the United States and China to understand each other's concerns. Legitimate scholarly dialogue can be an important driver of just that sort of understanding.
This article first appeared in the South China Morning Post. It is republished here with kind permission.