India, Vietnam Conclude Second Iteration of Bilateral Naval Exercise off Cam Ranh Bay
The exercise underscores growing maritime ties between the two countries.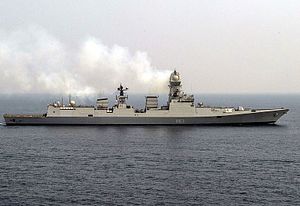 Military-to-military cooperation between India and Vietnam continued last week with the conclusion of the second iteration of a bilateral naval exercise between the two countries. The Indian Navy and the Vietnam People's Navy participated in bilateral drills off Cam Ranh Bay in Vietnam between April 13 and April 16.
Two Indian Navy vessels, INS Kolkata, the lead ship of the Kolkata-class guided missile destroyers, and INS Shakti, a Deepak-class fleet tanker, participated in the exercise. Following their participation in the bilateral drills with the Vietnamese Navy, INS Kolkata and INS Shakti traveled to the Chinese port of Qingdao to participate in the Chinese People's Liberation Army Navy's (PLAN) fleet review on the occasion of the 70th anniversary of the founding of the PLAN.
"The Navy to Navy cooperation involves a Composite Training Program in the fields of Submarine, Aviation and Dockyard training," an Indian statement noted. "The two countries have also signed an agreement to exchange White Shipping Information and have a running 'Information Sharing' program."
According to an Indian Navy statement, "The exercise was undertaken as a part of the ongoing Overseas Deployment of Eastern Fleet ships to South East Asian countries." Shortly after taking office in 2014, the current Indian government of Prime Minister Narendra Modi recast New Delhi's older "Look East" policy to an "Act East" policy, in a bid to signal the growing importance of East and Southeast Asia.
Under the Modi government, bilateral ties between India and Vietnam have deepened considerably, particularly in the security realm. In 2016, the two countries upgraded their ties to the level of a "comprehensive strategic partnership." New Delhi and Hanoi have converged over shared concerns about China; Vietnam is a claimant state in the South China Sea, alongside China, the Philippines, Malaysia, Brunei, and Taiwan and India has a disputed land border with China.
Last year's exercise was the first in this newly constituted India-Vietnam bilateral naval exercise series. It took place from May 21 to 26 off Da Nang, Vietnam. "The Indian Navy-Vietnam Peoples' Navy Bilateral Exercise is a significant step in further strengthening mutual confidence and inter-operability as well as sharing best practices between the Indian and the Vietnam Peoples' Navies," the Indian Navy noted in a statement following the latest exercise.
Earlier this month, underscoring broader cooperation, an Indian coast guard vessel, ICGS Vijit, visited Da Nang as well.
New Delhi's growing maritime security and naval cooperation with Vietnam has come alongside growing convergences between Vietnam and other regional powers concerned about China's activities in the South China Sea and in the region more broadly, including the United States and Japan.