Indonesia's Election Is Over But Identity Politics Will Linger
Jokowi needs to make tackling intolerance a focal point of his second term.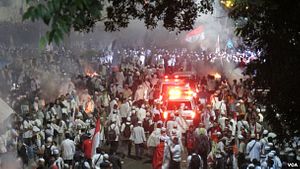 Indonesia has just concluded the world's biggest elections, and one of its most divisive. It appears that the incumbent president, Joko "Jokowi" Widodo, has won re-election comfortably, despite protestations from his rival, Prabowo Subianto, who declared victory in spite of the results and held mass prayers in the capital Jakarta to celebrate.
Subianto, son-in-law of former dictator Suharto, is a former general accused of grave human rights violations who built a coalition of hardline Islamists. His campaign put religion front and center, forcing Jokowi, a known moderate, to choose a conservative Islamic cleric, Ma'ruf Amin, as his running mate in order to neutralize the religion factor. That move may have succeeded in dispelling charges from his opponents that he was not a real Muslim, but it only served to emphasize identity politics.
Official confirmation of the results is not expected for several weeks, but the "quick count" gives Jokowi 55 percent of the vote, 10 percentage points ahead of Subianto. If this is confirmed, it is a welcome blow to the Islamist agenda. One of Subianto's supporters, a member of the vigilante Islamic Defenders Front (FPI), hardline group known for attacks on Christians and other minorities, told me on election day: "Indonesia is a Muslim-majority country. We want Islamic teachings to be implemented in full in every area of life. Those who do not implement them, we give them a warning, and then we send in our Islamic Defenders Army." When asked why the FPI supported Subianto, the FPI member replied: "Because he has promised us he will implement our vision."
That vision now won't be implemented, as Jokowi is known as a defender of Indonesia's pluralist tradition and a friend of religious minorities. But the Islamists' defeat at the ballot box does not automatically eliminate the voices of intolerance. The campaign stirred up divisions that must not be allowed to fester. One elderly woman dressed in a black hijab outside a polling station told me: "It is important that the candidate I support has the same religion as me." And 79-year-old Mohammad Thohir expressed disappointment with Jokowi for giving too many jobs to Chinese people. "He only got elected because of the Chinese and the Christians," Thohir said. "I want that to change now. That's why I choose Prabowo."
To seek a second term, Jokowi played up his Islamic credentials. Now that he has won, he must use his second term to heal a divided nation. In his first term he took some symbolic steps to revive Indonesia's state philosophy known as "Pancasila," which gives equal rights to all of Indonesia's recognized religions. It is also notable that incidents of violence and forcible closure of minority places of worship declined. Jokowi took the brave, and controversial, step of banning the radical group Hizb-ut-Tahrir.
Given that Indonesia's system, like the United States, has a two-term limit for president, Jokowi has nothing to lose by going further in his second term. He should prioritize countering intolerance through education reform, law enforcement, countering hate speech, and tackling the injustices under Indonesia's blasphemy laws. The case of Meliana, a Buddhist woman in North Sumatra jailed for 18 months simply for asking a mosque to reduce the loudspeakers' volume, is just the latest example of the appalling misuse of these laws. They should be repealed – or at least significantly reformed.
A week before the election, an important declaration was signed by religious leaders in Jakarta in support of the Document on Human Fraternity for World Peace and Living Together agreed by Pope Francis and the Grand Imam of Al-Azhar, Ahmed el-Tayeb, in Abu Dhabi in February. The family of former Indonesian President Abdurrahman Wahid, a respected Muslim cleric known as a defender of religious minorities, were among the organizers. Jokowi should swiftly endorse this initiative and include its principles in his program for government.
Religious intolerance has been rising significantly in Indonesia in the past decade. The Wahid Foundation reported 265 incidents in 2017, although it noted a sharp rise in violations perpetrated by nonstate actors and a decline in abuses by state actors. In May last year three churches in Surabaya were attacked by a family of suicide bombers as Christians gathered for Sunday worship. The imprisonment of Jakarta's former governor, Basuki Tjahaja Purnama (popularly known as Ahok), an ethnic Chinese Christian and friend of Jokowi, on charges of blasphemy in 2017 was a wake-up call.
And yet there are signs of hope. The churches in Surabaya were filled to overflowing over Easter. Good Friday is a public holiday in the world's largest Muslim-majority nation. And in Panongan, a subdistrict of Tangerang in Banten province, just outside Jakarta, a remarkable Catholic priest, Father Felix Supranto, has turned a previously hostile situation into a "unity in diversity village," working with Muslim leaders, government officials, police, and the military to promote dialogue, break down barriers, and build interfaith relations. Two days before election day, when they were busy preparing for the vote, local government leaders joined Muslim clerics in a three-hour meeting hosted by Supranto to discuss interfaith harmony.
Indonesia has long been held up as a role model for inter-religious harmony and Muslim democracy. Last week's elections have shown that vision is not dead, but it is under increasing strain. The peaceful conduct of the vote, and the rejection of Subinato's Islamist coalition, is a sign of hope. But the use of religion in the campaign is concerning. Jokowi must act fast if unity in diversity, rather than religious strife and a further lurch to extremism, is to be his legacy.
Benedict Rogers is East Asia Team Leader at the human rights organization CSW, and author of "Indonesia: Pluralism in Peril – the rise of religious intolerance across the archipelago" (2014).