What Does the New Submarine Deal Mean for South Korea-Indonesia Relations?
A closer look at the broader significance of a recent development.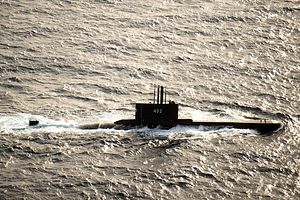 Last week, Indonesia signed a billion-dollar contract with a South Korean shipbuilder for a second batch of diesel-electric submarines. Though the development represented a culmination of talks already in the works over the course of several months, its broader significance for both countries is nonetheless worth noting.
As I have observed previously in these pages, while Indonesia, the world's largest archipelagic state, once operated one of the more capable submarine forces in Asia, today, it is woefully underequipped relatively speaking. South Korea is among the partners Indonesia has been turning to in order to boost its capabilities, with Seoul delivering three submarines that Jakarta ordered back in 2012. Alongside two German-built Type 209 submarines, those three Korean subs form the basis of Indonesia's current fleet. Over the past few months, there had been speculation that Indonesia would look to acquire up to three more submarines from South Korea.
Last week, we finally witnessed the realization of new Indonesia-South Korea collaboration in this realm with the signing of a new submarine contract. On April 12, South Korea signed a contract worth around $1.02 billion to sell three more submarines to Indonesia in Bandung, with the move coming just after the launch of the final of the three submarines that Seoul had agreed to transferred over to Jakarta as part of an earlier deal.
The development marks a significant boost for both sides. For Indonesia, the inking of the deal puts it closer to more fully realizing a previous target of 12 submarines that defense officials had said the country needs to police its waters – which had reportedly been cut down to eight submarines subsequently. Though this is something that has long been known, Jakarta has never come close meeting that requirement. With this contract now in place, and provided it is fulfilled in a timely manner, Indonesia would have a total of six newer submarines after 2024 (current projections suggest that Jakarta would be looking to retire the two older Type 209 submarines as newer boats come online).
Additionally, while specifics are still unclear at this time, apart from the new boats themselves, continuing an existing partnership with South Korea could also have other additional benefits for Indonesia. These include acquiring training and expertise as well as helping boost Indonesia's domestic defense industry, which has continued to be a priority for Indonesian President Joko "Jokowi" Widodo despite lingering challenges.
For South Korea, beyond just submarine cooperation, the deal marks both a gain for defense ties with Indonesia as well as a mark of progress for the Moon administration's wider efforts to boost ties with Southeast Asian states. On the former, as I have been noting, South Korea has been looking to advance security ties with Indonesia in recent years, viewing this realm of collaboration as being important to develop within the special strategic partnership announced during Moon's visit to Indonesia back in 2017. Indeed, before the ceremony, the head of South Korea's Defense Acquisition Program Administration (DAPA), Wang Jung-Hong, met with Indonesia's Minister for Political, Legal, and Security Affairs Wiranto, in Indonesia, where they discussed not only submarines, but also other projects in the bilateral relationship such as the KF-X/IF-X program.
From Seoul's perspective, the renewed collaboration on submarines is also viewed as an advancement within the Moon administration's New Southern Policy, which also includes a defense component. Indeed, following the ceremony related to the deal between South Korean defense firm Daewoo Shipbuilding and Marine Engineering (DSME) and the Indonesian government, DAPA, in a statement, directly referenced the deal as a key project within the Moon administration's New Southern Policy. The DAPA statement noted how this was the first contract worked through amid several defense reforms undertaken in South Korea to support defense exports, including the setting up of a one-stop shop as well as financing support provided by DAPA and the Korea Export-Import Bank.
To be sure, the focus on the impact of the deal itself should not distract from the reality that there is much work that remains to be done. There are important details that are yet to be worked out, including specifics of how Indonesia plans to finance the deal as well as incremental timelines for delivery, which have yet to be publicly disclosed. And despite talk of potential ripple effects of the deal for other components of Indonesia-South Korea defense collaboration such as the KF-X/IF-X deal, these separate projects have their own challenges that will need to be addressed if they are to truly get off the ground. Nonetheless, given the effort expended by both Seoul and Jakarta to advance ties in general and to strengthen collaboration with respect to submarines in particular, the wider significance of this new deal ought to be acknowledged.