With Diplomacy on Life Support, North Korea Names and Shames Pompeo, Bolton
North Korea's attacks on Pompeo and Bolton showcase a less delicate diplomatic approach.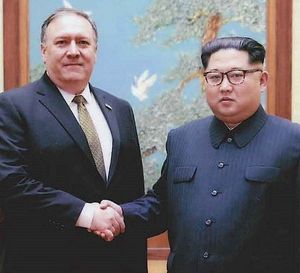 In the weeks since the summit meeting between U.S. President Donald J. Trump and North Korean leader Kim Jong Un in Hanoi, it's no secret that relations between the two sides aren't particularly good. The causes of the Hanoi summit's no-deal outcome have been extensively deconstructed and to anyone paying attention in the months after the Singapore summit, the outcome there was sadly all too predictable.
Slowly but surely, Pyongyang has begun to hedge for the possibility that this bout of diplomacy with Washington might collapse sooner rather than later. Beginning in February, even before the Hanoi summit, North Korea began reassembling facilities at the Sohae Satellite Launching Center that had been dismantled last year in a confidence-building measure. Separately, Kim, in two speeches earlier this month, took a harder line on sanctions than he'd been willing to do publicly. Sanctions, after all, were at the center of the Hanoi logjam.
What isn't new, however, is how North Korea continues to make sense of the divided U.S. administration, drawing a clear distinction between Trump and his deputies. Kim was careful during his speech to the first session of the 14th Supreme People's Assembly earlier this month to underscore that his personal ties with Trump remained strong.
"As President Trump keeps saying, the personal ties between me and him are not hostile like the relations between the two countries and we still maintain good relations, as to be able to exchange letters asking about health anytime if we want," Kim said. Their epistolary relationship remains—even if active diplomacy between their countries does not.
In the United States, meanwhile, headlines have zeroed in on two interesting statements by senior North Korean officials condemning two U.S. administration officials in particular: Secretary of State Mike Pompeo and National Security Adviser John Bolton.
Pompeo was the first to be slammed. In an April 18 report published in North Korea's outward-facing news agency, Kwong Jong Un, director general of the Department of American Affairs of the Ministry of Foreign Affairs in North Korea, called on Pompeo to be removed from his role as lead negotiator with North Korea. After four trips to North Korea in his current capacity and his prior role as director of the Central Intelligence Agency, Pompeo was unable to have a productive dialogue with North Korea.
The April 18 MFA statement suggested that Pompeo's repeated references to the Singapore agreement pertaining to North Korea's unilateral disarmament—or, as he used to say, the "final, fully verified denuclearization of North Korea"—were a particular source of vexation for Pyongyang. "We cannot be aware of Pompeo's ulterior motive behind his self-indulgence in reckless remarks; whether he is indeed unable to understand words properly or just pretending on purpose," the statement noted.
Days later, on April 21, Choe Son Hui, North Korea's first vice-minister of Foreign Affairs, slammed John Bolton. Acknowledging a long, bitter history with Bolton—who played a central role in the events of 2002 and 2003, as the Agreed Framework collapsed—Choe noted that Pyongyang "never expected that adviser Bolton would ever make a reasonable remark." She slammed Bolton's insistence after Hanoi that Washington would need "a real indication from north Korea that it has made a strategic decision of giving up its nuclear weapons" before a prospective third summit.
What's interesting about the above statements slamming Pompeo and Bolton is that they are, in effect, restatements of what North Korea had said in more delicate terms during 2018. In August 2018, Rodong Sinmun, the North Korean state newspaper, ran an editorial stating the following: "President Trump who has a 'dream' about improvement of DPRK-US relations and world peace, an epoch-making cause, has too many rivals." Those "rivals" are now being named. Nothing has changed in terms of what Bolton and Pompeo have done or said since then.
Separately, North Korea made its frustrations with the United States' understanding of "denuclearization" clear in December 2018. "It was the U.S. misguided understanding of the denuclearization of the Korean peninsula" that arose as a "knotty problem," that article noted. The commentary was unequivocal:
When we refer to the Korean peninsula, they include both the area of the DPRK and the area of south Korea where aggression troops including the nuclear weapons of the U.S. are deployed. When we refer to the denuclearization of the Korean peninsula, it, therefore, means removing all elements of nuclear threats from the areas of both the north and the south of Korea and also from surrounding areas from where the Korean peninsula is targeted. This should be clearly understood.
What is risky about North Korea's post-Hanoi approach is the effect it may have on prospects for a third U.S.-North Korea summit. Kim has already put in place a precondition of sorts: he needs a sign that the United States would be willing to broach sanctions relief before talks for a third summit can resume.
But as we saw last May, Trump was all too happy to cancel the first planned summit briefly after a statement by none other than Choe Son Hui slammed U.S. Vice President Mike Pence. The U.S. president has given little indicator that he's souring personally with Kim Jong Un, who he complimented just earlier this month on Twitter, but persistent North Korean statements of this sort remain risky.
Combined with other developments like North Korea's recent test of an unspecified "tactical" weapon, it's clear that Kim is favoring a less delicate approach than he did in the months between Singapore and Hanoi; even as another unspecified weapons test was conducted in November 2018, Pyongyang was even more ambiguous then about what it had demonstrated. This time, it was all too happy to emphasize the precision and warhead characteristics of the weapon.
We're now nearly two months out from the collapse in Hanoi. As the first anniversary of the Singapore summit nears in June, U.S.-North Korea ties don't appear to be on a positive trajectory.