Challenges Ahead for Pakistan-India Relations After the Indian Elections
The relationship between New Delhi and Islamabad will remain difficult.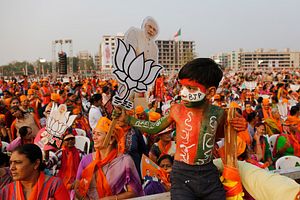 India's national election has entered its crucial final stage. The ensuing weeks will decide which political party is going to be at the helm of affairs beginning this summer. The next government in India is not going to find it easy when it comes to managing the political relationship with Pakistan.
The question of dealing with Pakistan has remained a major electoral issue in Indian politics. The ongoing election illustrates that the issue of national security has emerged as one of the key electoral debates in the country. In this regard, Prime Minister Narendra Modi's government has found an opening in the case of Pakistan, which remains valuable as an issue for electoral gains. Pakistan has attempted to portray India's recent aggressive approach toward the country as an effort lead by political parties for purely electoral reasons. The understanding in Islamabad is that as soon as the election cycle is over, New Delhi will revert back to the negotiating table. Pakistan's government, for some time now, has maintained that dialogue is the only practical way forward if both states are seriously interested in resolving a number of outstanding issues.
It is expected that immediately after the Indian election, Islamabad may reach out to New Delhi to begin a dialogue at some level. It's unclear, however, if either state is seriously interested in creating opportunities that could calm the current nature of the conflict between them. Considering the prevailing hyper-nationalistic atmosphere in the Indian general election, with calls for a military action against Pakistan, it's likely that New Delhi may reject Islamabad's expected call for dialogue immediately after the results of the federal election.
Modi has brought Pakistan's role to the center of India's security concerns and going against this narrative that has become the new normal in Indian politics will take some time. One thing remains clear: irrespective of which political party wins the current election in India, the incoming government in the country is not going to be interested in talking to Pakistan from the get-go. Any policy direction that suggests rejecting the electoral promise of acting tough against Islamabad is likely to draw public ire. Understandably, no government in India would be interested in enraging the public when it comes to a policy decision concerning the Pakistan factor in domestic politics.
Nevertheless, it's entirely possible that within the first three to six months, both countries may create opportunities that will undermine the existing hostile rhetoric against each other. The last two months' crisis and the politics around it have given an impression that dialogue on major issues such as Kashmir and terrorism is not expected to happen anytime soon. However, that's the very impression that is needed to begin serious dialogue from both sides.
It's clear that a new government in India might not want to continue with the same aggressive approach toward Pakistan given that Islamabad has repeatedly called for dialogue for some time. Arguably, a newly elected government in India doesn't stand to gain anything by following the ongoing assertive attitude towards Islamabad. In fact, the incoming government in India is going to be interested in engaging with Pakistan to find out if anything has seriously changed in the country when it comes to Islamabad's dealings with New Delhi.
However, it's important to note that even in a scenario where India and Pakistan's governments want to initiate dialogue, it's vital that major state institutions in both countries support the development. If one or both state's lack this condition, the process is not likely to reach any meaningful conclusion. Meanwhile, the challenge of non-state actors undermining the peace process between India and Pakistan cannot be ignored: a militant attack on either side of the Line of Control (LoC) while negotiations are underway has the potential to destroy any peace process between India and Pakistan. We have seen this happening over the last two decades and both states should be vigilant to any such prospects.
In this regard, the growth of the Islamic State (ISIS) presents a unique challenge: the group's proliferation in Afghanistan has already caused troubles for Pakistan. Moreover, Indian intelligence agencies have also apprehended a number of ISIS operates in the country which doesn't bode well for India's internal security situation. Arguably, one cannot neglect the group and its local regional affiliates using their militant campaign to sabotage Pakistan and India's future rapprochement.
Pakistan and India have a tough road ahead of them.