3 Scenarios for India-Pakistan Relations Under Modi 2.0
Can India and Pakistan shift the balance from confrontation to cooperation?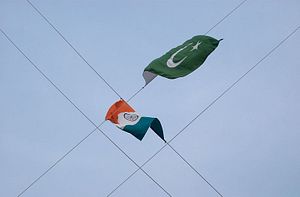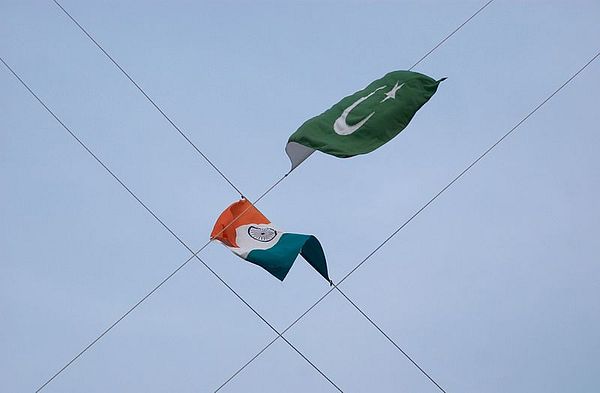 In a historic win, Narendra Modi has won another term in office as prime minister of India while his party, the Bharatiya Janata Party (BJP), has won an even larger majority than it held before—a first for an Indian political party since 1984. The question of how Modi will approach the India-Pakistan bilateral relationship in his second term has become the talk of the town not only among analysts in India and Pakistan but also international watchers of South Asian politics. This piece lays out possible scenarios for the future of the India-Pakistan bilateral relationship in Modi's second term and argues that improving ties between the two nuclear-armed neighbors is necessary to resolve historical discord at a time when their hostile relationship is serving as a stumbling block in harnessing the benefits of an economically-integrated South Asia and when international terror groups are threatening to destabilize the region.
Background of Tensions
During his previous term, Modi sought to improve ties with Pakistan by inviting then-Prime Minister Nawaz Sharif to his 2014 swearing-in ceremony and visited Lahore for an unplanned visit on Christmas day 2015. But following the January 2016 Pathankot attack, his administration cancelled planned talks with Pakistan by linking dialogue to action from Islamabad against militants believed by New Delhi to be responsible for the attack. The bilateral relationship experienced another strain after India conducted "surgical strikes" inside Pakistan-administered Kashmir in response to an insurgent attack on its military installation in Uri.
In February 2019, tensions escalated when India launched airstrikes in Pakistani territory against alleged terrorist camps which New Delhi claimed were behind the attack on an Indian paramilitary convoy in Pulwama earlier that month. Pakistan retaliated by launching airstrikes in Indian-administered Kashmir, which was followed by an air battle in which an Indian Air Force pilot, Abhinandan Varthaman, was captured by Pakistan. After several days of uncertainty and hostility, tensions finally eased when Pakistan returned Varthman to India in a goodwill gesture.
The post-Pulwama acrimony was reflected in the campaigning for India's Lok Sabha election earlier this year. Like previous election campaigns, this one too was rife with direct and indirect anti-Pakistan rhetoric, with Modi going as far as to declare that India is not afraid of Pakistan's nuclear threats anymore and suggesting that India's nuclear weapons are not just for show.
However, post-election, prospects for engagement look promising. The foreign ministers of both countries met informally during the Shanghai Cooperation Organization (SCO) Council of Foreign Ministers' meeting in Kazakhstan in May. Additionally, after the Indian election results were announced recently, Prime Minister Imran Khan telephoned Modi and congratulated him while expressing the desire to improve the bilateral relationship. Modi was receptive, and reiterated his earlier suggestion of working together to fight poverty, develop further cooperation, and enable an environment devoid of violence and terrorism. Additionally, Indian officials have recently been quoted by Indian media outlets as acknowledging that Pakistan is taking meaningful action against anti-India insurgent outfits, which indicates that an opening for dialogue may soon occur.
Fork in the Road
The next 12 to 18 months will be crucial for the India-Pakistan relationship because, as recent history is testament, any new Indian government usually undertakes positive gestures in addressing the Kashmir dispute, which is the main bone of contention between India and Pakistan, during the first few months of its tenure.
Given the mutual hostility between the two countries, one of three possible scenarios is likely to direct the future nature of their bilateral relationship. First, one possibility is that the status quo will remain intact with no serious engagement between the two countries during Modi's second term and violence remaining restricted to the Line of Control (LoC). However, this scenario seems unlikely after the series of moves described earlier, such as the telephone call between Khan and Modi, that suggest a thaw in ties.
Second, relations between the two countries could further deteriorate. The likelihood of such a scenario will be greater should the Modi administration continue to adopt policies viewed as attempts to isolate Pakistan. Past examples of these include India's non-engagement with Pakistan either at the bilateral or multilateral level since the National Security Adviser-level talks in December 2017, withdrawing the most-favored-nation status India had granted Pakistan, boycotting the SAARC summit in Pakistan in 2016, and linking sports activities with the political nature of the relationship.
The third scenario is that the bilateral relationship could improve to a certain extent. This could take many potential forms, including Pakistan taking action against anti-India insurgent outfits, the ending of proxy warfare and cross-LoC insurgent activities, both countries accommodating each other's strategic interests in Afghanistan, and India joining the China-Pakistan Economic Corridor. The possibility of such a scenario will largely depend on how serious the Pakistani and Indian governments are in improving bilateral relations. Additionally, the role of third parties like the United States and China will also factor into the materialization of these possibilities.
Pakistan's crackdown on anti-India outfits could serve as a starting point for the resumption of the composite or comprehensive dialogue, which has been suspended since 2013, and potentially, movement towards peace. Unlike previous crackdowns, the Imran Khan government has taken significant action against banned outfits–local media reports suggest that for the first time in more than three decades, the offices of Kashmiri insurgent organizations operating in Pakistan-administered Kashmir have reportedly been sealed and prominent leaders of proscribed outfits have been arrested and their properties, including seminaries and mosques, seized. Such steps have resulted in forcing the leadership of some of these outfits to go underground, and Jaish-e-Muhammad (JeM) has reportedly asked its cadres to prepare for "migration" and "a new struggle." These actions suggest that Pakistan is serious about tackling proscribed outfits and this could convince India to give talks a chance.
Challenges Ahead
The challenge for both Modi and Khan will be to ensure that cooperation does not occur at the cost of their strategic interests. For Modi, that means developing a Pakistan policy that satisfies his right-wing Hindutva-centric base while also engaging in talks with Islamabad. Similarly, for Khan, the principal challenge will be to maintain Pakistan's long-standing position on the Kashmir dispute while also cracking down on anti-India militant outfits operating within Pakistan.
There are several ways in which both Modi and Khan can improve the bilateral relationship without appearing weak to their respective publics. First, flare ups on the LoC should be avoided. Pakistan claimed that India committed 1,140 ceasefire violations in 2017 while India claimed that Pakistan was responsible for 881 ceasefire violations the same year. Such incidents have resulted in significant human losses, both military and civilian, on both sides of the border. But, according to research conducted by Indian political scientist Happymon Jacob, ceasefire violations are not necessarily directed by the top political or military leadership–they are quite often driven by "local military factors," such as construction of new bunkers, "tests by firing" whenever new officers assume command, etc. Thus, these incidents do not serve a strategic purpose and can sometimes even trigger crises between the two countries. Avoiding them by adopting proposals such as regular communication and meetings between local commanders, coordinated patrolling, and others outlined by various experts would improve the LoC situation, serving as a major confidence-building measure to transform the political nature of the relationship.
Secondly, improvements by both India and Pakistan to the human security situation in Kashmir would go a long way towards demonstrating to the local populace that both sides genuinely intend to address their apprehensions. This could be accomplished by New Delhi adopting a less militaristic approach in Indian-administered Kashmir, avoiding human rights violations by Indian security forces, and engaging with all the relevant stakeholders in Kashmir, including the Hurriyat. While Pakistan too could address grievances in Pakistan-administered Kashmir identified by the United Nations High Commissioner for Human Rights such as clampdown on freedom of speech and wrongful arrest.
Finally, intelligence-sharing between India and Pakistan regarding the movement of members associated with international terrorist groups like the Islamic State (IS) and al-Qaeda in the Indian Subcontinent (AQIS) and anti-India militant groups operating in Pakistan could simultaneously increase transparency and trust between the two countries. Lastly, informal meetings between Indian and Pakistani political leadership should become the norm such that they could lead towards a structured dialogue process in the future.
In realizing the above-mentioned proposals, Islamabad and Delhi would likely face several major barriers, including pressure from their armed forces, especially regarding an intelligence-sharing framework. The prevalence of negative perceptions of the other in both countries also means that domestic pressure from their respective publics will factor in.
However, India and Pakistan must consider that with international terror groups like IS and AQIS making inroads into South Asia, it is in both their interests to improve their bilateral relationship. If the Indo–Pak relationship remains broken, the security of the whole region remains at risk. Additionally, the discord between the two countries is preventing them from harnessing their fullest economic potential–their bilateral trade potential is estimated to be $37 billion. Consequently, the mutual economic benefits will also result in enhancing intra-regional trade in South Asia, which remains one of the least economically integrated regions of the world.
Fahad Nabeel is a Senior Research Associate at the Centre for Strategic and Contemporary Research in Islamabad, Pakistan. A version of this piece originally appeared at South Asian Voices, a platform for strategic analysis and debated hosted by the Stimson Center.