India Takes Delivery of First AH-64E Apache Attack Helicopter
Indian Air Force representatives took delivery of the first AH-64E Apache attack helicopter in Mesa, Arizona on May 10.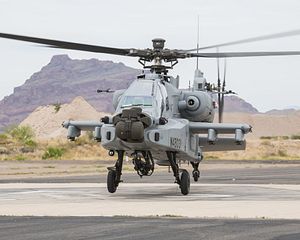 The first Boeing AH-64E Apache Guardian attack helicopter was officially handed over to the Indian Air Force (IAF) during a ceremony at Boeing's production center in Mesa, Arizona on May 10, the Indian Ministry of Defense (MoD) said in a statement.
The IAF signed a $2.2 billion contract with the U.S. government and Boeing for 22 AH-64Es and 15 CH-47F Chinook heavy-lift helicopters for the IAF in September 2015. The first batch of four AH-64Es is slated to be shipped to India beginning in July. The first four Chinook heavy-lift helicopters were inducted into IAF service on 25 March.
The 2015 contract includes a clause for a follow-on order of 11 extra AH-64Es and seven Chinooks for the IAF at a fixed price that was agreed upon in 2013. The acquisition of the helicopters was  accompanied by a prolonged inter-service rivalry between the IAF and the Indian Army's Aviation Corps (AAC), which I explained previously. Last month, I wrote:
The AAC plans to operate three separate AH-64E squadrons with a total of 39 helicopters. In February 2018, the AAC has begun a separate procurement track for its Apache AH-64Es. (…) [T]he AAC seeks an initial purchase of six AH-64Es under the Pentagon's Foreign Military Sales (FMS) program, overseen by the U.S. Defense Security Cooperation Agency.
As I reported last month, the helicopters will arrive on U.S. Air Force C-17 Globemaster III transport aircraft at Pathankot Air Force Station in northern India, where they also will be assembled. The remaining 18 AH-64Es will reportedly be delivered by the end of 2020.
Air and ground crew have undergone training on the helicopter gunship at Fort Rocker, Alabama. "These personnel will lead the operationalization of the Apache fleet in the IAF," the MoD statement reads.
"The addition of AH-64 E (I) helicopter is a significant step towards modernization of Indian Air Force's helicopter fleet," The MoD adds. "The helicopter has been customized to suit IAF's future requirements and would have significant capability in mountainous terrain."
The AH-64E Apache is one of the world's most advanced multi-role combat helicopters. Fitted with two high-performance turboshaft engines, which allows for a maximum cruise speed of over 284 kilometers per hour, the helicopter can be armed with laser-guided precision Hellfire missile, 70-millimeter rockets, and a 30-millimeter automatic cannon.
"The ability of these helicopters, to transmit and receive the battlefield picture, to and from the weapon systems through data networking makes it a lethal acquisition," according to the MoD. "These attack helicopters will provide significant edge in any future joint operations in support of land forces."