Japan-Vietnam Military Ties in the Headlines with Defense Minister Visit
The recent trip by the Japanese defense minister spotlighted ongoing activity in the bilateral relationship.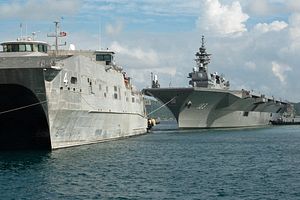 Last week, Japan's defense minister paid a scheduled visit to Vietnam. Though the trip was only one of a series of activities within bilateral ties, it spotlighted some of the ongoing activity in the Japan-Vietnam defense relationship, which both sides look to continue to develop into 2019 as well.
As I have noted before in these pages, while Japan and Vietnam have long maintained a defense component in their wider bilateral relationship, the two countries have been boosting their security ties as part of their so-called extensive strategic partnership over the past few years. Gains have included not just headline items such as periodic maritime security assistance, but significant moves including new naval drills, Japanese port calls, an agreement on coast guard cooperation, and discussions on more defense equipment and defense industrial collaboration.
Both countries have continued developing their relationship over the past year or so. 2018 in particular saw some significant developments as both sides commemorated the 45th anniversary of the establishment of their diplomatic ties, including the inking of a new joint vision statement for defense ties and the first-ever visit by a Japanese submarine to Vietnam in September.
Over the past week, the defense relationship has been in the headlines again with the visit of Japan's defense minister to Vietnam. Japanese Defense Minister Takeshi lwaya was on an official visit to Vietnam at the invitation of Vietnam's Defense Minister General Ngo Xuan Lich.
Iwaya's visit, which was his first overseas trip since Japan's official transition to the Reiwa Era, lasted from May 2 to 4 and comprised a series of interactions. This included a meeting with Prime Minister Nguyen Xuan Phuc and one with Lich at the headquarters of Vietnam's defense ministry where both sides discussed issues within the bilateral defense relationship.
Per the official account by Vietnam's defense ministry, during the meeting, both sides exchanged views on regional and global issues and reviewed the outcomes of cooperation thus far between the two defense ministries, including Japan's assistance to Vietnam to address war legacy issues, maritime security, and search and rescue operations.
The two sides also discussed areas where they could potentially boost defense collaboration still further. Cooperation fields that received mention included those either already being pursued or discussed before, such as personnel training, information technology, UN peacekeeping operations, military medicine, and defense industry. And as evidence of continuing, incremental efforts to advance efforts in this vein, after the talks, Iwaya and Lich witnessed the signing of a memorandum of understanding to strengthen defense industry cooperation between the two sides.
To be sure, the meeting between the two defense ministers is just one of a growing set of interactions on the defense side, and the Vietnam-Japan relationship ought to be observed within the broader set of foreign alignments by both countries, which are active on their own in the international stage. Nonetheless, it is testament to the ongoing efforts by both countries to continue to develop this aspect of their bilateral relationship with everything else they are experiencing at home and abroad.