Japan-Vietnam Defense Cooperation in the Headlines With Naval Consultations
A recent consultation highlighted some of the ongoing activity in the naval aspect of the bilateral defense relationship.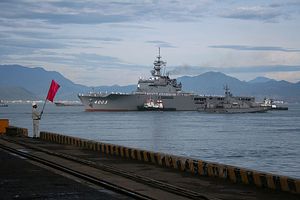 Last week, Japan and Vietnam held the latest in a series of ongoing naval consultations. While the interaction was just one of a series of activities in the bilateral relationship, it nonetheless spotlighted some of the ongoing activity in naval aspect of their defense relationship in 2019 and beyond.
As I have observed previously in these pages, while Japan and Vietnam have long maintained a defense component in their wider bilateral relationship, the two countries have been boosting their security ties as part of their strategic partnership over the past few years. This is due to converging interests on both sides, with Vietnam looking to strengthen ties with a range of powers as part of its omnidirectional foreign policy and Japan seeking to boost relations with Southeast Asian countries, including in the defense domain.
The advances in Japan-Vietnam defense ties have included the maritime domain as well, with functional areas including capacity-building and exchanges as well as issue areas of common interest such as China's assertiveness in the East China Sea and the South China Sea. Recent gains have included not just headline items such as periodic maritime security assistance, but significant moves including new naval drills, an agreement on coast guard cooperation, and discussions on more defense equipment transfers.
Last week, the naval aspect of the defense relationship was in the headlines again with the holding of consultations by both sides. Delegations on both sides held a set of talks to enhance naval cooperation between them.
The consultations, between individuals from the international security policy office of Japan's defense ministry, as well as agencies of the Vietnam People's Navy, took place in the form of a working session on October 3 held in Vietnam. The consultations provided both sides with an opportunity to discuss the state of collaboration in the naval realm as well as specific cooperation programs.
According to the official account of the consultations by Vietnam's defense ministry, during the meeting, the Japanese delegation provided an update on specific cooperation programs from 2019 out to 2022, including previous interactions that were agreed upon. A case in point is Japan's sending of an underwater minesweeper to Da Nang in December 2019, during which military personnel from the two sides are expected to hold a seminar on underwater UXO clearance to both assess their capabilities and to contribute towards training and cooperation programs in this field.
The account also noted that the two sides had reached consensus on other activities during that visit as well as other interactions, which were left unspecified. The Japanese delegation also reportedly interacted with other organizations including the Naval Medical Institute to reach agreement on the content of cooperation programs in areas such as underwater medicine.
Unsurprisingly, not much in the way of specifics was disclosed by either side. Nonetheless, as headline-grabbing developments such as the upcoming underwater minesweeper visit take place in the coming months, this aspect of their defense cooperation will be important to watch in the future amid wider domestic and regional developments for them.