Naval Visit Highlights Vietnam-Australia Defense Ties
A recent interaction spotlighted some of the ongoing activity in the security aspect of the relationship.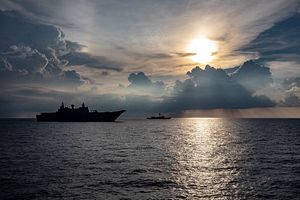 Last week, two Australian ships paid a visit to Vietnam. While the voyage was part of a broader regional engagement on the part of Canberra and just one interaction among both countries, the Vietnam leg nonetheless spotlighted the ongoing development of defense ties between the two countries amid wider developments in their domestic and foreign policies.
As I have noted before in these pages, relations between Australia and Vietnam have been strengthening over the past decade or so, with ties between the two countries elevated to a comprehensive partnership in 2009, and then an enhanced comprehensive partnership in 2015, followed by a strategic partnership in 2018. This has come amid broader trends in both countries' foreign policies, with Australia looking to strengthen ties with Southeast Asian states and Vietnam seeking to build relationships with major powers and influential states as part of its omnidirectional foreign policy.
The defense aspect of the relationship has also been gradually built out as well. Following the inking of a formal memorandum of understanding for defense cooperation concluded in 2010, both countries have grown to engage in various forms of defense collaboration, be it personnel exchanges and naval ship visits or Canberra providing education and training to the Vietnamese military in areas such as English language and peacekeeping. There have also been some significant developments along the way, with a case in point being the start of a formalized defense dialogue between the two sides in 2017.
Last week, the defense aspect of the relationship was in the headlines again with the visit of Australian ships to Vietnam. Two Royal Australian Navy (RAN) ships, HMAS Canberra and HMAS Newcastle were on a scheduled four-day goodwill visit to Vietnam's central province of Khanh Hoa that begun on May 7.
The two ships, which docked at Cam Ranh Bay International Port, were accompanied by a total of 800 military personnel and diplomatic representatives and led by Air Commodore Richard Owen as Commander of Joint Task Force 661. The visit was part of the Australian Defense Force's Indo-Pacific Endeavour (IPE19), which also included other stops as well including other Southeast Asian countries such as Indonesia, Malaysia, Singapore, and Thailand. This was the first time that Vietnam had been included as a stop within the exercise, which has been the headlines in previous years as well.
The four-day goodwill visit included a series of interactions. Per the official account by Vietnam defense ministry, this included a welcome ceremony, courtesy calls to the Khanh Hoa People's Committee and Naval Command Zone 4, military-to-military engagements, professional experience sharing on board the ships, humanitarian assistance and disaster relief operations, sporting events, and community engagement activities including a band performance and interacting with school children.
Unsurprisingly, not much was publicly disclosed about some of the private interactions between the two countries. But both sides described the goodwill visit as being testament to the ongoing bilateral defense interactions between the two sides and an occasion to build trust and understanding to further buttress this dimension of ties. The very fact that we saw Vietnam's first inclusion as part of IPE is evidence of the fact that both countries are continuing to do so into 2019 and beyond despite any lingering challenges that remain for ties.