Russia's Sole Aircraft Carrier to Remain Docked in 2020
The Russian shipbuilding industry still expects to meet the 2021 deadline for finishing repairs and upgrades on the flagship of the Russian Navy.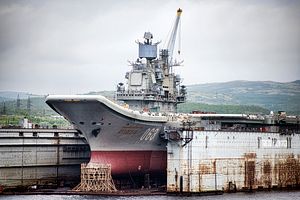 The flagship of the Russian Navy, the 55,000-ton aircraft carrier Admiral Kuznetsov, will remain docked throughout 2020 for repairs and upgrades at a ship repair plant in Murmansk in the far northwest part of Russia, according to a Russian shipbuilding industry source.
"The phase of repairs in a dry dock will begin in 2020, provided the facilities required are in place and the dock's capacity is increased," the source was quoted as saying by TASS news agency on May 7.
Following the sinking of one of the world's largest dry docks in October 2018 in a shipyard at the 82nd Repair Shipyard in Roslyakovo district near Severodvinsk, not far from Murmansk, the Russian shipbuilding industry has been struggling to continue work on the carrier.
Russia reportedly does not possess a large enough repair facility to accommodate the carrier. It will take to a year to recover the sunken Swedish-made PD-50 drydock and Russia reportedly does not possess the equipment to lift the drydock from the seabed on its own.
For the time being, only work in the ship's interior can continue.
Nonetheless, in a recent statement, Russia's United Shipbuilding Corporation (USC), which oversees the repair and upgrade work of the carrier, insisted that work on the carrier will be completed by 2021.
"It's a complex package of measures, so we foresee a certain postponement of the second docking of the ship, but the eventual deadline for completing the repairs and upgrade – 2021 – will remain unchanged," USC said in a statement.
There have been reports that the Severodvinsk shipyard possesses another floating dock, PD-1, that could be used for the work on the Admiral Kuznetsov. However, an immediate post-accident assessment revealed that the dry dock would not be able to accommodate the carrier.
The head of USC, Alexei Rakhamnov, indicated earlier this year that a facility capable of accommodating the flagship of the Russian Navy would be established at the 35th ship repair plant in Murmansk without elaborating on the details.
Ever since the October 2018 accident, USC has insisted that it would be able to keep maintain the current schedule. However, Russia's shipbuilding industry has a history of covering up or downplaying accidents during ship upgrades.
Additionally, the Russian shipbuilding industry has not delivered a single large warship to the Navy on time and according to a pre-agreed upon schedule in the past five years.
Interestingly, prior to the signing of a contract between the Russian Ministry of Defense and USC and prior to the accident, the company insisted that work on the carrier could not be finished under four years.
The Admiral Kuznetsov was commissioned in 1990 and last underwent a two-year refit between 1996 and 1998.