South China Sea: 2 US Navy Destroyers Conduct Freedom of Navigation Operation in Spratlys
The U.S. Navy's latest freedom of navigation operation challenged excessive Chinese claims in the Spratlys.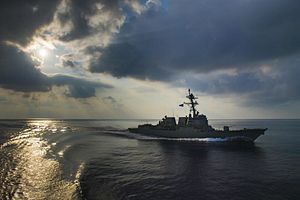 On Monday, two U.S. Navy warships conducted a freedom of navigation operation near features held by China in the South China Sea. The U.S. Navy confirmed the operation to Reuters, noting that two Arleigh Burke-class guided missile destroyers, USS Preble and USS Chung Hoon, sailed within 12 nautical miles of Gaven and Johnson Reefs.
The transit was an innocent passage. According to Commander Clay Doss, a spokesman for the U.S. Navy's Seventh Fleet, the transit was aimed to "to challenge excessive maritime claims and preserve access to the waterways as governed by international law."
China reacted angrily to the operation. "The relevant moves by the U.S. ships infringed upon Chinese sovereignty, and damaged the peace, security and good order of the relevant seas. China is strongly dissatisfied with this and resolutely opposed to it," Chinese Foreign Ministry spokesperson Geng Shuang told a daily news briefing. "China urges the United States to stop such provocative actions," Geng added.
The U.S. operation in the South China Sea follows a recent transit by two warships through international waters in the Taiwan Straits. China claims most of the South China Sea under its capacious nine-dash line claim. Taiwan, the Philippines, Vietnam, Brunei, and Malaysia also have competing claims in the Spratly Islands.
Both Gaven and Johnson Reefs are among the seven features in the South China Sea's Spratly Islands where China has built up artificial islands. Monday's freedom of navigation operation coincided with an increase in U.S.-China tensions on trade as U.S. President Donald J. Trump tweeted a threat to increase tariffs on Beijing, but the operation appears to be part of the U.S. Department of Defense's regularly planned operations.
Since 2017, the pace of U.S. freedom of navigation operations — both announced and unannounced — has increased. The United States officially insists that its freedom of navigation program does not discriminate between excessive maritime claims made by competitors, like China, and allies and partners. In recent years, U.S. freedom of navigation operations in the South China Sea and elsewhere have challenged maritime claims not in line with international law by U.S. allies and partners as well.
Monday's operation came shortly after the U.S. Department of Defense released an annual public assessment of Chinese military power. That report observed that Beijing's artificial islands were subject to considerable militarization throughout 2018. Beijing placed "anti-ship cruise missiles and long-range surface-to-air missiles on outposts in the Spratly Islands, violating a 2015 pledge by Chinese President Xi Jinping that 'China does not intend to pursue militarization' of the Spratly Islands," the report said.
The report added that "No substantial land has been reclaimed at any of the outposts since China completed its artificial island creation in the Spratly Islands in late 2015, after adding over 3,200 acres of land to the seven features it occupies in the Spratlys."