South Korean Journalist Under Fire for Being 'Rude' to President Moon
Is a journalist asking a president a serious question inappropriate?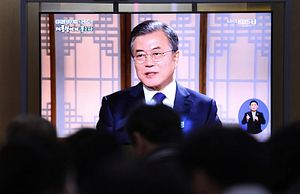 South Korea, as has been covered by The Diplomat, is experiencing a setback in terms of freedom of speech and media. With President Moon Jae-in's marking his second anniversary of taking up the presidency, the situation appears to be getting worse.
On May 9, a day before the administration's two-year anniversary, South Korea's national broadcaster KBS conducted a one-to-one interview with Moon.
It was an excellent opportunity for Moon to review and explain what his administration had achieved and what its future plans are. Voters perhaps also appreciated with interview as Moon has not been proactive in terms of giving press interviews since his inauguration.
Many might have expected to see active discussion on what Moon said. The interview, however, bore a rather unexpected result.
Criticisms landed heavily on Song Hyun-jung, the KBS journalist who hosted the interview. Critics complained that she was "rude" to the president.
"Rude behaviors," these critics said, included Song frowning at Moon and cutting him off during the interview. Some also claimed that some of Song's questions were "inappropriate." When discussing controversial appointments to high-level government posts, Song used the word "dictator" when referring to Moon, citing his reputation among citizens.
Some online users flocked to the official online petition channel managed by South Korea's Presidential Blue House to demand punishment for both Song and KBS.
A petition demanding the government disband KBS garnered about 14,000 signatures as of writing, while one demanding Song's official apology attracted about 10,000.
At least 58 similar petitions have been filed to the channel so far.
"This is just odd to see," said Jun Hee-kyung, a spokesperson at South Korea's main opposition Liberty Korea Party during a press interview. "If journalists have to be censored for what they ask and worry about their future because of that, it means our society has gone backwards."
This came not long after South Korea's ruling party issued a personal criticism for a Seoul-based journalist at Bloomberg for "insulting" Moon. The party withdrew the note after it faced a backlash.
That controversy erupted in March after conservative lawmaker Na Kyung-won cited the headline of the Bloomberg story in a move to criticize Moon's foreign policy. The headline in question described Moon as becoming North Korea leader Kim Jong Un's "top spokesman at UN" during his visit to the United Nations last year.
The ruling Democratic Party of Korea issued a statement pointing out the names of the news organization and the reporter involved, using a derogatory term referring to ethnic Koreans who work for the foreign press.
The Seoul Foreign Correspondents' Club subsequently issued a statement expressing "grave concern" over the party's move while the AAJA-Asia and the Seoul subchapter of the Asian-American journalists' group separately criticized the party for focusing on the reporter's Korean ethnicity in their statement.
Amid growing criticism, the party withdrew its statement.
The presidential office, which is backed by the ruling party, also drew a line. It pledged to uphold press freedoms, saying that it cannot accept any circumstances where a reporter's personal safety is threatened and it believes this should never happen in any situation.
But the presidential office only made its statement after the journalist experienced ruthless attacks from Moon supporters via email and social media channels.
Unfortunately, this is the tip of the iceberg. It has become more frequent to see journalists under fire for criticizing or reporting about either the government or the president unfavourably in South Korea.
Moon was asked at the New Year's press conference in 2018 about his opinion on malicious online comments or cyberbullying carried out by his supporters. At that time, Moon said he saw such comments and moves as a different way of expressing opinions. He told the reporter who raised the question to be calmer about hateful comments or cyberbullying instead of being too sensitive.
It was sensible advice, but it appears that Moon forgot why journalists exist and what journalism is.