The Old Challenge in the New Indonesia-Vietnam South China Sea Clash
Both sides continue to face difficulties in managing illegal fishing and broader maritime issues within their wider relationship.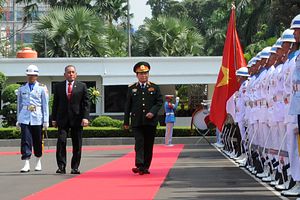 Over the weekend, maritime tensions between Indonesia and Vietnam rose again after Indonesia claimed that a Vietnamese government vessel had rammed one of its naval ships patrolling against illegal fishing near Indonesia's Natuna island chain, which lies in the southernmost reaches of the South China Sea. While the incident is just the latest in a series that have complicated ties between the two Southeast Asian states, it also points to the broader challenge Jakarta and Hanoi both face in managing illegal fishing and broader maritime issues within their wider relationship, including completing negotiations on their maritime boundaries.
As I have noted before in these pages and elsewhere, one of the challenges in Indonesia-Vietnam relations has been in the maritime domain. Though both sides have been developing their overall bilateral relations over the years – from a comprehensive partnership agreement in 2003 to a strategic partnership in 2013 – and have also taken steps such as establishing a coordination mechanism for protecting fishermen and fishing vessels and countering maritime crimes and working towards better collaboration between their coast guards, addressing this issue has proven difficult.
The difficulty of managing the issue of illegal fishing and maritime issues more generally between Indonesia and Vietnam is rooted in various factors. For one, addressing it requires a multifaceted approach – including agreement on disputed boundaries themselves, adequately policing waters, educating fishermen, and establishing clear rules of engagement and lines of communication between forces on both sides. All this takes time to forge, let alone to then implement and enforce.
For another, a series of trends, including increasing international scrutiny on illegal fishing stemming from Vietnam and the tougher stance taken by the government of Joko "Jokowi" Widodo in preserving Indonesia's sovereignty and territorial integrity, including what Indonesia now considers the North Natuna Sea, have only intensified the difficulty of managing the challenge. By one count by the Indonesian fisheries ministry in February this year, over half of the illegal fishing vessels that were seized since Jokowi was inaugurated in October 2014 – or 276 out of 488 – were from Vietnam. Indonesia has also intensified its own approach to strengthening its control of the North Natuna Sea through a string of measures that continue to be rolled out.
Given this, it is little surprise that periodic incidents with respect to illegal fishing have continued to complicate Indonesia-Vietnam ties, with varying degrees of severity. Of particular note though are cases where other Vietnamese vessels have attempted to intercept or disrupt Indonesian efforts to crack down on illegal fishing, with conflicting accounts about whose waters the incidents have occurred in as well as a high potential for further escalation.
In late February, for instance, when the Indonesian Navy arrested four Vietnam-flagged illegal fishing vessels in the North Natuna Sea, the Indonesian Fisheries Minister Susi Pudjiastuti stated publicly that these Vietnamese vessels were guarded by two Vietnam Fisheries Resources Surveillance (VFRS) vessels, which she said had infiltrated Indonesia's exclusive economic zone (EEZ) and tried to hinder Indonesian attempts to disrupt and detain the vessels in question. At the time, Pudjiastuti had also made clear that this sort of incident was far from rare, and that, in an indication of frequency, a similar instance had occurred just a few days earlier.
This weekend, this aspect of the relationship between the two Southeast Asian states was in the headlines again as Indonesia accused the Vietnamese coastguard of ramming one of Jakarta's vessels that was attempting to block the interception of a boat that was fishing illegally within Indonesia's exclusive economic zone (EEZ) on Saturday, April 27. While some of the specifics of the incident still remain unclear at this point, videos that were seen on social media showed a VFRS ship KN-213 ramming an Indonesian Navy corvette the KRI Tjiptadi 381. Indonesian authorities have also claimed that some fishermen who had escaped detention were picked up by the Vietnamese coast guard before fleeing.
In the days since the incident, the headlines have focused mostly on the immediate Indonesian reaction, including the initial detention of Vietnamese fishermen and the summoning of Vietnam's deputy ambassador to Indonesia. There was also an emphasis on the announcement by Pudjiastuti that Indonesia would resume a suspended practice of publicly sinking vessels on May 4, with the statement specifying that most of the vessels were coming from Vietnam. While the practice had been justified by Jokowi government as a necessary effort to stem illegal fishing, several regional governments including Vietnam had expressed concerns about how this was being handled, which had led Jakarta to initially alter aspects of its approach.
But beyond the focus on the immediate fallout, the key question is whether this serious incident accelerates already ongoing efforts by both sides to find a more sustainable approach to managing what is clearly a recurring issue. For instance, as Vice-President Jusuf Kalla disclosed on Tuesday, the two countries are now currently in the midst of boundary negotiations, which would have a direct impact on how these sorts of incidents are managed. If Indonesia and Vietnam can make clear advances on some measures they have already discussed, whether it be on boundary negotiations or coordination among their various forces, these measures can at least help them better manage incidents when they do occur even if it remains unlikely for now that they will stop entirely.