The Rise of Japan's New Emperor Sparks Debate on Male-Only Succession
As Japan celebrates a new Emperor and imperial era, the male-only succession rule underscores the monarchy's struggle to survive.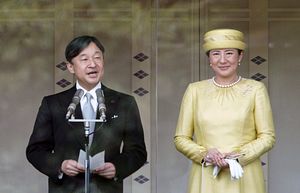 On May 1, Japan welcomed Emperor Naruhito, 59, to the Chrysanthemum Throne. In what should be a two-year period of mourning, it was an occasion for celebration as Emperor Emeritus Akihito abdicated a day before.
Japan's monarchy is the world's oldest. Scholars believe Japan's first imperial family came to power more than 1,400 years ago. But, a declining pool of eligible male heirs in the royal family means it has reached a critical junction. Currently there are 18 members of the royal family, with only three eligible male heirs to the throne — Emperor Naruhito's younger brother, 53-year-old Prince Akishino, Akishino's 12-year-old son, Prince Hisahito, and Akihito's younger brother, 83-year-old Prince Hitachi. In reality, it is 12-year-old Prince Hisahito who carries the weight of the next imperial generation.
The urgency to maintain the succession of the Chrysanthemum Throne has weaved through public debate since the early 2000s. Under the current system, the laws of succession limit the throne to first born male offspring.
But Japan hasn't always favored patriarchal succession. Throughout history there have been eight female rulers — the first taking the throne as far back as 592 AD. The rule that limits first born male-only heirs was established during the Meiji restoration and entrenched in the Imperial House law of 1947 which banned women from taking the throne. It also stipulates women in the royal family must forfeit their title and inheritance when they marry a commoner, taking a lump sum payment after marriage.
Without revision of the Imperial House Law, the public duties expected of the dwindling royal family will become more burdensome, the family more overstretched. Surveys suggest a majority of Japanese approve of a women taking the throne and allowing their children to rule. In 2005, former Prime Minister Junichiro Koizumi launched an advisory body to discuss the inevitability of accepting a female emperor but the momentum for public debate fizzled out when Prince Hisahito was born in 2006.
Since then talk about an empress has been muted. Prime Minister Shinzo Abe and long term ally Chief Cabinet Secretary Yoshihide Suga have strongly resisted the idea of a matriarchal empire in part due to pressure from the conservatives who form Abe's support base and who are vocal critics of going against what they percieve as tradition.
In 2017, when a one-time law was passed to enable Emperor Emeritus Akihito to abdicate, a special panel was set up to investigate and report back to the Diet on a variety of measures to stabilize imperial succession. Although some suggested allowing women in the royal family to continue a public role and public affairs even after marrying a commoner, no deadline for the panel's proposals was established.
On May 1, the government held the sacred enthronement ceremony known as the  "sword of succession." It's the first stage of ascension where seals, a sword and a jade jeweled ball are handed down as proof of a rightful succession signifying the official reign of Emperor Naruhito. But oddly absent was his wife, Empress Masako. In tying in with modern imperial tradition, only adult male members of the royal family are allowed to attend the ceremony. Among conservative politicians there are concerns that if female royal family members attend the emperor's ascension ritual it could lead to the acceptance of a female emperor. However for the first time, in breaking with modern tradition, a female member of parliament from Abe's cabinet, Satsuki Katayama, was allowed to witness the rites.
The Emperor of Japan plays a largely symbolic role in Japanese society. Emperor Emeritus Akihito captured the heart of the public by opposing his father's war-affirming stance and proactively repairing ties with former annexed nations.
At his first public appearance this week, Emperor Naruhito followed in his father's legacy by pledging to be a symbol of unity. At the sacred sword ceremony he wished for Japan to work hand in hand with other countries to seek world peace and further development and also wished the public health and happiness.