Why Nepal Is Keenly Watching India Elections
The stakes for Nepal are high as India votes.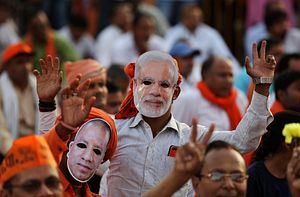 The ongoing parliamentary elections in India also matter to the government and the people of neighboring Nepal. While the government of Indian Prime Minister Narendra Modi in New Delhi started its relations with Kathmandu on a high pitch, ties are back to less-than-satisfactory levels at the end of its five-year term.
Nepal-India relations witnessed several hiccups after Kathmandu promulgated a new constitution in 2015, which was followed by a long, painful economic blockade imposed on Nepal allegedly by India for not incorporating New Delhi's concerns in its constitution. A year later, another bout of grave damage was done through the demonetization of all 500 and 1,000 rupee banknotes by the Modi government. People in Nepal lost huge sums of money due to a lack of exchange facilities within the country. Despite India's promises, the Reserve Bank of India failed to resolve the issue with its Nepalese counterpart, the Nepal Rastra Bank (NRB).
Like in the period before 2014, there is now a visible lack of trust between the two countries. In the BJP's 2019 election manifesto, for example, the much touted "Neighborhood First Policy" has surprisingly not found prominence. The opposition Indian National Congress party, on the other hand, has given enough breathing space to its own neighborhood policy, with a special focus on reviving the prospects of the South Asian Association of Regional Cooperation (SAARC).
The situation could improve if the new government in India is willing to address existing issues between the two countries. After all, the Nepal Communist Party (NCP) government in Kathmandu, led by Chairman K.P. Sharma Oli, has two-thirds support in the national parliament with a five-year mandate, empowering it to work with the new government in India.
The first job of the new prime minister in New Delhi will be to receive a report prepared by the Nepal-India Eminent Persons' Group (EPG) last year. The EPG, formed in 2016 to produce a comprehensive report on how to settle the issues related to bilateral relations, completed its report in July 2018. It is, however, an expert view and not enforceable.
The two countries have agreed that the EPG report will be first handed over to the Indian prime minister. It was supposed to be submitted to Modi six months ago, but New Delhi refused to receive it, expressing displeasure over some of its content. The report was later slightly modified, but India told Nepal that it would be received only after the formation of a new government.
At the heart of the EPG report is the 1950 Peace and Friendship Treaty, the bedrock of the bilateral relationship between Nepal and India. If the recommendations made by the EPG report are implemented, it would bring fundamental changes to Nepal-India relations.
The report has proposed several measures, including issuance of identity cards for cross-border travels, a high-tech monitoring system on the border, and a gradual narrowing down of the border entry points for travel to regulate the current open border between the two countries—a central thrust of the 1950 treaty. As of now, there is no requirement for ID cards or visas for travels between the two countries.
Nepal's government wants to exercise independent power to import military hardware from a third country. Article 5 of the 1950 treaty does not prohibit Nepal from importing arms and ammunition from a third country, but the Letter of Exchange (LoE) concerning the same article imposes certain conditions. The second paragraph of the LoE says, "Any arms and ammunition or war-like material and equipment necessary for security of Nepal that the government of Nepal import through the territory of India shall be so imported with the assistance and agreement of government of India."
The EPG report has recommended that Nepal be free to import arms and ammunition, but must inform the Indian government about those imports. In 1989, when Nepal's King Birendra imported some military hardware from China, India imposed a border blockade stating that Kathmandu violated the 1950 treaty.
Nepal has also proposed changes to Nepal-India cooperation in water resources and to treaties related to trade and transit. The NCP government in Nepal has pledged in its election manifesto to scrap or change all unequal treaties with India. New Delhi, however, is reportedly not ready for it yet.
Earlier, India was often accused of meddling in Nepal's internal politics, but over a period of time this has changed some. For example, the Indian ambassador in Kathmandu now rarely gives political speeches in public forums. Nepal is certainly more assertive about its sovereignty after the enactment of its constitution.
However, Kathmandu remains unhappy about India taking positions on demands for constitutional amendments by Nepal's Madhes-based parties in the southern plains bordering India. In 2015, when these parties expressed dissatisfaction over the new constitution, India publicly supported it. The demands, being political in nature, called for a careful handling by New Delhi, but it witnessed lapses.
Later, in order to make a rapprochement with Kathmandu, India softened its position on the Madhes region, but refused to drop it from its priority list. There is a curiosity in Kathmandu over how the new government in New Delhi would respond to the demands of the Madhes-based parties, which are once again preparing to launch a movement for a constitutional amendment.
Nepal is hoping for a progressive regime in New Delhi, which would seriously deal with long stalled issues and bring in new possibilities for cooperation between the two countries.
Kamal Dev Bhattarai is a Kathmandu-based journalist and political analyst; Atul K. Thakur is a New Delhi-based columnist and public policy professional.