Narendra Modi's Radar Gaffe Reveals Dangerous, Clouded National Security Judgement
The Indian prime minister's recent "radar" gaffe is revealing of his leadership tendencies.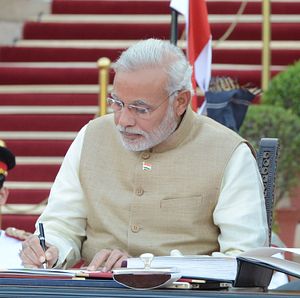 Ever since the February 26 Indian airstrikes on an alleged terrorist base in Balakot, Pakistan, analysts have asked probing questions around their timing as well as efficacy. Many have argued that the airstrikes – in response to a suicide bombing of an Indian paramilitary convoy in Kashmir in mid-February – have led to a surge in Prime Pinister Narendra Modi's popularity in the run-up to the ongoing general elections in the country. Others have – contra the official position of the Indian government – questioned whether Indian ordnance indeed destroyed the intended targets. New Delhi has not released any imagery to support its claim that it did so.
However, recent news reports suggest that had the Indian Air Force (IAF) deployed the Israeli-made Popeye air-to-ground missiles (AGMs) instead – which the Indian jets used in the Balakot strikes were also equipped with – it would have been able to furnish definitive proof that the terror camps in Balakot were hit. The fire-and-update/television mode in the Popeye missiles, referred to in India as "Crystal Maze," functions through a video uplink which would have enabled the IAF to collect irrefutable visual battle damage assessment (BDA) data.
Crucially, the reports suggest that bad weather and heavy cloud cover in the very early morning of February 26 prevented the IAF from using that munition – thereby depriving New Delhi a valuable opportunity to bolster its claim especially in face of serious skepticism at home and abroad.
Just as this controversy was dying down came an own-goal of epic proportions – from none other than Modi himself. In a television interview last weekend, the prime minister noted that he had overridden concerns of "experts" (presumably that of the IAF's) about the weather on the day of the Balakot strikes – based on his "raw wisdom" that it would have helped Indian jets avoid Pakistani radar detection.
Leaving aside the inadvertent diagnostic value of Modi's remark for a moment (in terms of what it reveals about the functioning of his national security apparatus over the past five years): Had Modi listened to his own air force and waited for the weather to have cleared up, chances are the IAF would have had an opportunity to deploy the fire-and-update munitions and thereby settle the Balakot debate once and for all. It is hard not to see the irony of it all.
Now on to what Modi's raw wisdom actually reveals. In a hard-hitting cover story for Time last week, American writer Aatish Taseer clinically dissected Modi's tenure as prime minister noting, among other things, that he "has presided over a continuous assault on the grove of academe, where the unqualified and semiliterate have been encouraged to build their shanties." Prominent Indian scientific meetings – enjoying government patronage – now routinely feature talks on ancient Hindu provenance of aerospace engineering and stem-cell research. In 2015, Modi himself had suggested that ancient Indians were genetic scientists.
But the assault hasn't been on academe alone extending, as it has, to all spheres of specialized intellectual activity. In the realm of public policy, the attack on expertise has led to dramatic and questionable economic measures such as the sudden and dramatic decision to ban 86 percent of India's currency notes in 2016 – based on a plan drawn up by a Modi advisor with no formal training in economics.
In an atmosphere where specialized knowledge is viewed as the preserve of the elite and therefore positively undermined – a worldview Modi and his supporters share with other ethno-populists around the world – it is not a surprise that an overbearing prime minister's 'intuition' (if you can call it that) about weather and radars can form the basis of a significant military operation with potentially serious and uncertain strategic consequences.
Returning to the Balakot airstrikes, had bad weather simply resulted in the lack of recorded visual BDA perhaps the issue could have been ignored. But one news report suggested that because of the unfavorable weather, a fraction of the Indian jets tasked with bombing the targets in Balakot crossed the Line of Control (LoC, the de-facto border that separates India- and Pakistan-administered Kashmir) against a set rule of engagement, in order to acquire targets to fire the Crystal Maze AGMs.
Note that this breach of the LoC by Indian jets in almost half a century was an extraordinary act – something India scrupulously avoided during the Kargil War 20 years ago. In all likelihood, such a rule of engagement was set to avoid Indian jets being shot down and/or pilots captured. (Incidentally, this is precisely what happened the next day, on February 27, when an Indian Mig-21B was downed and an Indian pilot taken prisoner during Pakistani retaliatory air action.) In other words, Modi's "wisdom" effectively ended up translating into needless risk-taking.
His lack of basic awareness of how an air defense radar functions becomes all the more important given the fact that as head of the Political Council of the Nuclear Command Authority, he is the sole individual who can order a nuclear strike. Despite considerable Indian progress in acquiring nuclear-capable missiles, "bombers continue to serve a prominent role as a flexible strike force in India's nuclear posture." (Notably a variant of the Mirage 2000 jets that were used for the Balakot strikes form part of the Indian nuclear air-vector.) While I do not mean to sound unduly alarmist, it is certainly a matter of concern when the sole launch authority of India's nuclear weapons prefers to trust his "raw wisdom" about another nuclear power's air defenses over the suggestions of his seasoned advisors.
This brings me to my final point. Over the past five years, Indian security policy decision-making has become increasingly concentrated in the office of the prime minister (and ipso facto that of his national security advisors). Part of this persistent structural problem – Modi has merely accentuated a problem that has been present in the Indian system since the country's independence in 1947 – is the lack of reforms of higher defense management system such as appointment of a Chief of Defense Staff. This, in turn, has reinforced the civilian side of the equation by default. As I wrote elsewhere, "Prime Minister Modi's 2018 defense reforms proposals have reinforced this pattern, by empowering the civilian national security advisor to act as a 'de-facto Chief of Defence Staff.'"
Narendra Modi's radar blooper is a sad illustration of what happens when unchallenged authority is guided by folk wisdom.