The Geopolitical Implications of Abe's Iran Trip
Insights from David Arase.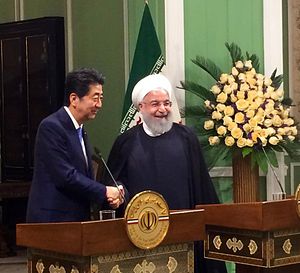 Trans-Pacific View author Mercy Kuo regularly engages subject-matter experts, policy practitioners, and strategic thinkers across the globe for their diverse insights into U.S. Asia policy. This conversation with Dr. David Arase – Resident Professor of International Politics at the Johns Hopkins School of Advanced International Studies, Hopkins-Nanjing Center, co-editor of The U.S.-Japan Alliance: Balancing Soft and Hard Power, and author of The Rise of China: Implications for East Asian Order – is the 192nd in "The Trans-Pacific View Insight Series."
Identify the top three outcomes of Prime Minister Shinzo Abe's recent meeting with Ayatollah Ali Khamenei, Iran's supreme leader.
Abe played to three different audiences with this trip.
With respect to the U.S. and Iran, who are at daggers drawn today, Abe used Japan's traditional friendship with both sides to open a high-level and two-way backchannel of communication in a bid to de-escalate the situation. Trump lacks a trusted line of communication with Khamenei, and so Abe is positioned to play a helpful role.
The larger international community is justifiably alarmed by the prospect of armed conflict in the Persian Gulf. No one expects Japan to force a resolution to the conflict, but Abe's intervention represents a well-intentioned effort to open up communication between Iran's top leader Khamenei and Trump in a bid to de-escalate the situation and keep the oil flowing through the Strait of Hormuz.
Domestically, there is an Upper House election scheduled in July and so Abe needs to show that his foreign policy of "proactive pacifism" means taking the initiative to defend Japan's energy security and prosperity while strengthening international peace.
What is Shinzo Abe's strategic calculus in positioning himself as interlocutor between Washington and Tehran?
Abe needs to use his visit to reassure Iran that Japan remains a reliable long-term friend and economic partner that wants to see the end of the U.S. economic sanctions regime against Iran as soon as possible. Though Iran is unhappy that Japan complies with the sanctions, Abe will explain why Japan has little choice but to do so.
Abe also needs to demonstrate to Trump that their friendship delivers value in a global setting in which Trump has few other leaders in whom he may place trust.
Finally, his intermediary role could be useful in the run-up to the Osaka G-20 meeting hosted by Abe at the end of this month when all participants of the JCPOA [Joint Comprehensive Plan of Action] will be in attendance. This can only heighten the significance of the occasion.
Amid recent tanker attacks in the Middle East, how might Tokyo help defuse tensions?
Tokyo needs to keep the newly opened backchannel alive by engaging both sides in exploratory discussions that create new perspectives on the fundamental strategic dilemmas that divide the U.S. and Iran. Meanwhile, as host of the soon-to-be-held G-20 meeting in Osaka, Japan can push for a G-20 commitment to preserving stability in the Persian Gulf as well as a quick and peaceful resolution to the Iran sanctions to improve the general atmosphere.
What are domestic and diplomatic risks if Prime Minister Abe's efforts are fruitless?  
I believe there is little downside for Abe. There are no grounds to think that he could have or should have brokered a new Iran "nuclear-plus" deal. But that is not to say his trip was foolish or pointless. He had a good opportunity to enhance his image both domestically and diplomatically and I believe he did so by stepping in to play a helpful role at a timely moment.
What are the implications of Abe's Iran gambit on U.S.-North Korea dialogue?
No doubt Kim Jong Un was watching all this intently. Abe showed that he is a trusted intermediary between top leaders in Iran and the U.S., who are fighting over the same nuclear weapons and ballistic missile issues that currently plague DPRK-U.S. relations.
Could Abe play a similar role between the U.S. and North Korea? No, because Trump and Kim already have direct personal dialogue and don't need another intermediary. Moreover, Abe has shown that he will fully comply with U.S.-mandated economic sanctions, and he has been fixated on getting a full accounting of 17 Japanese citizens kidnapped by North Korea some 40 years ago. This means Kim will see no immediate benefit to opening talks with Abe. Finally, Kim will not want to give Abe any political capital earned from a visit to Pyongyang if this helps Abe to win another election and advance his ambition to revise the Japanese Constitution to make Japan's Self-Defense Forces (SDF) more like a normal military force.