New US Joint Chiefs Chairman Endorses Post-INF Missile Deployments in Pacific
The next probable U.S. chairman of the Joint Chiefs of Staff sees more missiles in the Pacific as a useful capability.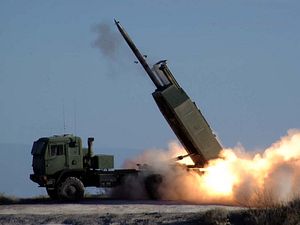 Gen. Mark Milley, the current U.S. Army chief and President Donald J. Trump's nominee for chairman of the Joint Chiefs of Staff, endorsed the deployment of new missiles in the Pacific previously prohibited by a Cold War-era arms treaty.
Milley was asked about the Intermediate-Range Nuclear Forces Treaty, a 1987 pact between the United States and Soviet Union that banned both countries from deploying, possessing, testing, or developing ground-launched cruise and ballistic missiles with ranges between 500 and 5,500 kilometers indefinitely.
Following years of U.S. allegations that Russia had been in violation of the treaty by developing a new cruise missile that was capable of flying to ranges prohibited by the Treaty, the Trump administration announced that it would begin a six-month withdrawal process from in February. Starting in August, the United States will no longer be bound by the treaty's requirements.
Responding to a question about whether new post-INF missile systems developed by the United States should be deployed in the Indo-Pacific region, Milley responded "I do." He was speaking before the U.S. Senate Armed Services Committee.
Milley did not clarify where specifically INF-range systems might be deployed in the Pacific.
Though the treaty's abbreviated name references "nuclear forces," INF covered both conventional and nuclear capable missiles. The new missiles that may be developed and tested by the United States — possibly as early as later this year — are all slated to be conventional in nature.
Aside from Russia's violation of the treaty, U.S. officials in the past have expressed concerns about China's large range of conventional missiles within the range proscribed by the INF Treaty. Harry Harris, the former commander of U.S. Pacific Command, testified in April 2017 that "approximately 95 percent of the [People's Liberation Army Rocket Force's] missiles would violate the INF if China was a signatory."
China, meanwhile, has ruled out any interest in participating in the treaty. "China develops its capabilities strictly according to its defensive needs and doesn't pose a threat to anybody else. So we are opposed to the multilateralization of the INF," Chinese State Councillor Yang Jiechi said in February, speaking at the Munich Security Conference.
According to comments by U.S. officials who spoke to the Associated Press earlier this year, the United States will begin testing two weapons — both armed solely with a conventional payload. The tests are expected to take place at or after August.
One missile was described by anonymous Pentagon officials as a "low-flying cruise missile with a potential range of about 1,000 kilometers." The second missile would be a "a ballistic missile with a range of roughly 3,000 to 4,000 kilometers."