US Defense Secretary: 'We Would Like' New Post-INF Treaty Missile Capabilities in Asia
Mark T. Esper made the comments shortly after the United States' withdrawal from the Cold War-era treaty was made official.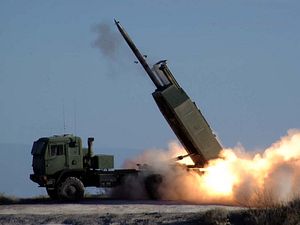 Mark T. Esper, the new U.S. secretary of defense who was confirmed into the position in late-July, said on Saturday that he favored the deployment of new U.S. ground-based missiles to Asia. His comments came one day after the United States' withdrawal from the 1987 Intermediate-Range Nuclear Forces (INF) Treaty took effect.
"It's fair to say, though, that we would like to deploy a capability sooner rather than later," Esper said while en route to Australia for high-level defense and foreign policy consultations. "I would prefer months. I just don't have the latest state of play on timelines."
The United States announced it would withdraw from the INF Treaty in February, after several years of accusations that Russia had surreptitiously violated the treaty with a cruise missile that is capable of flight to ranges that were prohibited by the treaty.
The treaty, negotiated between the United States and Soviet Union in the mid-1980s, barred both countries—and eventually a handful of Soviet successor states, including the Russian Federation—from tested, deploying, or possessing ground-launched ballistic or cruise missiles with ranges between 500 km and 5,500 km.
U.S. Secretary of State Mike Pompeo announced the United States' withdrawal from INF on Friday, stating that "the United States will not remain party to a treaty that is deliberately violated by Russia."
Discussing the INF issue, Esper cited China's missile arsenal. "80 percent plus of their inventory is intermediate range systems, so that shouldn't surprise them that we would want to have a like capability," he said.
The U.S. Department of Defense is moving ahead with the development of multiple post-INF Treaty missile systems, including a cruise missile with an expected 1,000 km range and an intermediate-range ballistic missile with a 3,000 to 4,000 km range. No post-INF systems under consideration are expected to be armed with nuclear weapons.
China had called on the United States and Russia to maintain the INF Treaty while ruling out its own participation in the treaty.
U.S. officials have not clarified where post-INF missile systems would be based in the Asia-Pacific region. The U.S. territory of Guam is a likely candidate, but relatively shorter-range systems like the 1,000 km cruise missile would likely need to be deployed on allied territory closer to Chinese shores—most likely that of either Japan or the Philippines.
On Monday, Linda Reynolds, the Australian defense secretary, clarified that the United States has not made any request to Australia to base missiles on its territory.