A Quiet Kowari: US, Australia, and China Trilateral Military Exercise
The sixth annual trilateral military exercise continued despite increased regional tensions.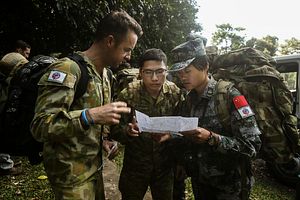 For the past six years, regardless of tensions experienced across the region, Australia has played host to a trilateral military exercise involving the United States and China. Named for one of Australia's more aggressive marsupials, the Kowari exercise takes place each September in the tropical forests and waterways of either Queensland or the Northern Territory. 
Providing practical field experience in collaborative problem solving, leadership, and teamwork, Kowari involves a select group of participants from the Australian Army, U.S. Army and Marines, and Chinese forces. Referred to as "the mother of corporate bonding events" by one source close to the exercise, its purpose is to build confidence measures, trust and effective communication among the three nations in an outdoor adventure environment.
While the exercise has slowly developed momentum as an annual event, this year's activities coincided with increased debate in Australia as to whether its trade relationship with China is at odds with its defense alliance with the United States. 
In sharp contrast to previous years, Kowari 2019 passed rather quietly, as both the Australian and U.S. armies stepped back from their previously enthusiastic media engagement and social media output. Some observers have remarked upon the impact this may have on Australia's relationship with its largest trading partner, not to mention its own public diplomacy. 
"When Australia does joint exercises with the U.S., China is inevitably mentioned as a target or a spy," commented James Laurenceson, acting director of the Australia-China Relations Institute. "Yet when Australia and China work together, this receives the briefest of mentions in mainstream media. As a result, the Australian public is given a lop-sided impression of the relationship as existing purely within the economic realm."
As Laurenceson notes, a number of collaborative initiatives have been successfully developed between Australia and China recently. In fact this year, Australian university researchers are set to publish more co-authored scientific papers with colleagues affiliated with Chinese institutions than those in the United States. In fields such as computer science, more than half of Australia's top-level scientific papers are written in collaboration with Chinese partners.
Kowari's Legacy
Kowari's key value lies in the stressful, high-risk adventure training that provides tangible opportunities for small units to develop camaraderie and person-to-person relationships. The smaller scale nature of the exercise, which generally involves just 10 participants from each nation, has been designed to build rapport through shared experiences. 
As a result, the exercise places significant demands on its participants – from physically taxing outdoor survival and adventure activities to communication challenges such as language barriers and cultural differences. The thorough safety briefing held before the exercise also outlines the potential difficulties in engaging with local flora and fauna, such as crocodiles, box jelly fish, stinging nettle, sharks and whales. 
Each year the terrain of the site provides opportunities to develop specific outdoor adventure skills such as hiking, sea kayaking, mountaineering and canyoning. This year's exercise, hosted for the third time by the Australian Army's 51st Battalion, Far North Queensland Regiment (51 FNQR) was held in the Cairns region.
From China's perspective, Kowari is one of many joint military exercises in which it participates. Each year the country is involved in similar initiatives with nations such as Russia, Cambodia, Singapore, and Germany. 
In recent years, Kowari has provided opportunities for the Chinese government to rotate through different units of its defense force. Last year China's Marines joined the exercise and this year airborne troops of the PLA Air Force took part.
Exercises such as Kowari and Pandaroo (an Australia-China bilateral initiative) provide Beijing with opportunities to illustrate its willingness to engage with the United States and Australia in a range of initiatives throughout the region. Some observers, however, are not convinced. 
"Kowari has not contributed to making the PLA more transparent or increased China's willingness to join international coalitions," says Drew Thompson, senior fellow at the Lee Kuan Yew School of Public Policy. "The inclusion of PLA marines and airborne units are an indication that the exercise is morphing in directions that are antithetical to the United States and its partners in the region."
Thomson, who is also a former U.S. Defense Department official, notes that the involvement of the United States is essentially an expression of loyalty and respect toward Australia as one of its most important allies. 
"The U.S. has been unenthusiastic about Kowari since its inception," says Thomson. "The objective of military-to-military engagement with China is risk reduction and Kowari does not contribute to that. The U.S. continues to participate in support of its alliance with Australia, which has made Kowari an important part of its own military diplomacy."
Australia's legacy of direct engagement with China's armed forces dates back to 1993, when then-Foreign Minister Gareth Evans became responsible for the successful negotiation of China's involvement in the United Nations Transitional Authority in Cambodia (UNTAC). While the PLA had previously provided small-scale contributions to international initiatives, UNTAC became China's first major peacekeeping operation, involving 50 military observers and 400 military engineers. 
"The Australian Army is committed to working cooperatively with our international partners and exercises such as this enhance the security of our region," said Australian Chief of Army Lieutenant General Rick Burr. "Kowari enables important people-to-people connections between counterparts as they work together to complete a series of physically and mentally challenging activities." 
Prestige and Potential
For those involved in the exercise each year (predominantly lower ranked staff), Kowari is a prestigious experience. Since 2014, the exercise has produced an alumni of less than 200. While Australian troops have many opportunities to receive such outdoor survival training, for Chinese and American participants, it's a unique experience in a unique part of the world. 
One previous U.S. participant remarked upon the personal importance of his taking part. "Very few people have received this patch, so it was an honor," said Lance Corporal Joseph Painter in 2016. "It's a big deal to me." 
However, some have observed that Kowari's greatest contributions to the trilateral relationship have yet to be realized. 
"This kind of exercise is an ideal conduit for building trust, respect and person-to-person relationships," said one source close to the exercise. "It should be utilized to develop enduring professional relationships between majors and colonels, rather than privates and corporals."
Laurenceson agrees with this sentiment. "Efforts should be put into extending the breadth of such exercises, increasing their frequency and including representatives at the more senior levels." 
Looking Ahead
Considering the fact that Kowari was originally established in an era defined by the Obama administration's "pivot" to Asia, it's worth asking whether the exercise is still relevant in 2019. 
Both participants and observers have noted this year that the mood has changed. While the Chinese government has begun to rotate a more diverse contingent of participants, the United States' involvement was noticeably reduced.  
In previous years, all three nations have actively promoted the exercise in both social and print media – particularly during the first two years of the Trump administration. This year there was an obvious social media blackout and only a succinct statement issued by each nation.
Thompson believes that the founding objectives of the exercise – to support the evolution of China's regional foreign policy and encourage alignment with Australian and U.S. interests – are naïve.
"Australia has its own reasons to pursue military diplomacy with China but the expansion of the Kowari and Pandaroo exercises threaten to undermine regional stability, as well as the U.S.-Australia alliance," says Thompson. 
Not surprisingly the perspective in Australia – a nation deftly balancing its long-term relationship with a dominant power against its increasing reliance upon a rising power – is more positive.
"Defense exercises are important because they convey the basic point that China is not Australia's enemy," says Laurenceson. "Our economic relationship has never been better but politically things are tense and stuck in a rut. Australia ought to be striving to work more, not less, with what will soon be the dominant power in our region."
There are also wider strategic and diplomatic opportunities for Australia, as it plays host to the world's two leading economies.
"Initiatives like this enable a third-tier power like Australia to utilize its bureaucratic resources to develop regional clout and build momentum in its bilateral relationships," said a source close to the exercise. "It allows Australia to build military-to-military relationships without the politics."
It seems that Kowari's future depends upon Australia's ability to remain as wily and agile as the bush rat the exercise is named after given tensions between the United States and China. A further complicating issue is political uncertainty in the United States, particularly as Trump, who recently appointed his fourth National Security Adviser, now faces the specter of impeachment.
Katie Howe is a strategic consultant based in Canberra, Australia. Her 20-year expertise includes public affairs, government relations, crisis communications, corporate communications and risk management support.