Assessing Philippine Foreign Policy Under Duterte: Current Realities and Future Outlook
A closer look at Duterte's foreign policy record and how things could play out in the coming months and years.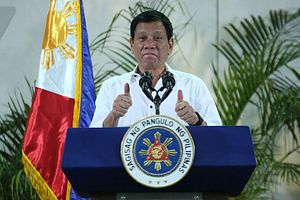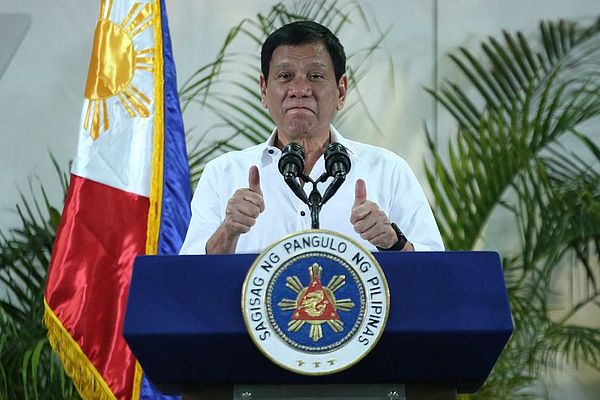 Last week, Philippine President Rodrigo Duterte paid his second visit to Russia in three years in what was trumpeted as another gain for his so-called "independent foreign policy" of cultivating non-traditional partners for the Southeast Asian state apart from its treaty ally the United States. But while the slogan has gotten a lot of traction in the past few years, the record of Duterte's foreign policy approach itself is a much more mixed, with individual gains obscured by strategic challenges that could intensify in the coming years.
Since the founding of the country, Philippine foreign policy has rested on the management of different broad priorities, whether it be managing ties with neighboring states, balancing ties between major powers, and contributing in some ways to the resolution of regional and global issues, with a mix of continuity and change. For instance, under Duterte's predecessor, Benigno Aquino III, there was a hardening of the approach toward China and a closer embrace of members of the U.S. alliance and partnership network, along with a commitment to regional and international institutions for the promotion of Philippine interests.
Duterte's time in power has led to a mix of continuity and change as well under what officials have called "independent foreign policy." The idea of an independent foreign policy is not unique to Duterte or new to the Philippines – indeed, the notion of an independent foreign policy is directly expressed in the Philippine Constitution. While there have been various explanations offered on what exactly this slogan means in the Duterte administration, an independent foreign policy is most often expressed as one based on cultivating a diversified set of relationships solely based on Philippine national interests, designed to maximize the country's autonomy, security, and prosperity. And though some of Duterte's policies in fact have continuity with the Aquino years – advancing economic diplomacy and protecting overseas Filipinos, for instance, were two of the three original pillars of Aquino's foreign policy as articulated by then Foreign Secretary Albert Del Rosario – others, such as closer alignments with China and Russia reflect change.
Officials and advisers in the Duterte administration have pointed to some gains that have been realized from this foreign policy approach. In June, for instance, Philippine Foreign Secretary Teodoro Locsin Jr. defended the pursuit of an independent foreign policy in remarks commemorating the founding anniversary of the Department of Foreign Affairs, noting that there had been various incidents that had spotlighted its successes including the U.S. return of the Balangiga Bells to the Philippines, the protection of overseas workers, and the sending back of garbage to Canada following a waste dispute. More generally, there have been some broader developments as well, be it greater diplomatic activism in regions such as the Middle East or increases in defense spending and foreign investment beyond China, with Japan being a notable case in point.
But thus far, whatever individual gains have been realized in Duterte's foreign policy have been overshadowed by the strategic concerns it has raised. For one thing, the administration has highlighted the opportunities afforded by diversification in cultivating ties with countries such as Russia, less focus has been placed on the risks and costs of doing so, including interoperability when it comes to defense equipment and the effects on alliance ties with the United States which some of his advisers are aware of. For another, the notion of an independent foreign policy has left the Duterte administration open to criticism when it is seen as not being adequately protective of Philippine sovereignty, particularly when it comes to China and the case of the South China Sea. Furthermore, some of Duterte's domestic policies, such as the war on drugs, have also eroded the Philippines' image abroad and complicated ties with some partners as well as with international institutions, irrespective of whatever gains may be realized at home. More generally, there has at times been confusion about the extent of policy coherence due to a confluence of factors, from Duterte's own incendiary rhetoric to the revolving door of foreign secretaries (Duterte is on his fourth in just over three years in office).
Duterte advocates do have a point when they argue that assessing his foreign policy record alone does negate some of his domestic gains that seek to realize success where Aquino did not find it, whether it be in advancing peace in the southern Philippines or the inroads made in infrastructure building. And there is still time left for Duterte's foreign policy to take shape for the remainder of his single six-year term out to 2022, be it through design or circumstance. But it is also true that as the Duterte administration moves beyond plucking lower hanging fruit and grappling with tougher issues in relationships with key countries such as China, the challenges in its foreign policy will only grow. The environment within which the administration is operating in could also become more difficult, be it because of international trends such as intensifying great power competition or domestic ones such as intensified maneuvering and greater scrutiny on Duterte's record as we get closer to the next Philippine election.
All in all, while much still remains uncertain, it is at least clear that the reality of Duterte's foreign policy approach is much more mixed than the rhetoric around his pursuit of an independent foreign policy. How that evolves in the coming years and how it interacts with domestic developments will continue to be important to watch as this will not only shape Duterte's legacy but also the future of the Philippines more generally.