Philippines Confirms New Envoy to China
The retired foreign correspondent, who has lived in China since 1971, has vowed to build trust with Beijing, while standing up for Philippine interests.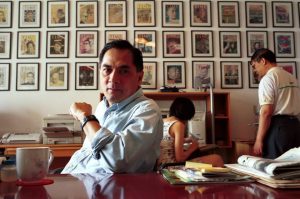 The appointment of Jaime Florcruz as the Philippines' new ambassador to China was confirmed on December 7 by the country's Commission on Appointments.
Who is Florcruz and what will be his role in building closer relations with China under the government of President Ferdinand Marcos Jr.? His response to legislators during the public hearing of his confirmation provided a glimpse of his thoughts on China and the country's foreign policy directions.
Florcruz was a student activist who went to China in 1971 to witness the impact of the "cultural revolution." He was forced to remain in China after President Ferdinand E. Marcos, the father of the incumbent president, banned him from returning for alleged subversion. He continued his studies in China and became a journalist who led TIME Magazine and CNN in Beijing until his retirement. His CNN profile described him as the dean of the foreign press corps in Beijing and the longest-serving foreign correspondent in China.
Florcruz has many friends in China which makes him the ideal person to serve as ambassador, but his former comrades think it is ironic that the former activist who defied Martial Law is now serving under the government of the dictator's son.
Florcurz, 71, has lived in China for half a century. The Senate President was candid enough to ask him if this would be disadvantageous to the Philippines.
"You can be assured that in my vein, in my mind, in my heart I'm a Filipino through and through and I never thought anything else except being Filipino. And I'll proudly wave the Philippine flag in China," Florcruz said.
Senator Risa Hontiveros welcomed his response about upholding the Philippine victory at the Permanent Court of Arbitration in 2016, which recognized the country's claims in the maritime territories being disputed with China.
"We are near China so there are many good reasons to make sure that we have good relations with our neighbor," he said. "It does not mean that we will abandon our arbitral ruling award. It does not mean we will sacrifice our sovereign and territorial rights."
Asked by Senator Francis Tolentino about the best approach to defending the country's territorial rights in the South China Sea, known as West Philippine Sea in the Philippines, Florcruz pointed out the need to strengthen local institutions and the capability of the country's armed forces.
"I believe foreign policy begins at home. We, I think, need to be united – the executive, legislative, Supreme Court. We should be united as a nation," he said.
"I believe that our foreign policy should be based on strength," Florcruz added. "Which means that we should ensure that our armed forces, especially our coast guards, our navy are well funded, well-trained. Because I believe that's the best way to assert our sovereign rights, our territorial rights."
Responding to another question from Hontiveros, Florcuz vowed to establish better relations with China.
"I would like to promote people to people relations… I wish to pursue that on the ground and of course after the bilateral relations, I wish we can promote more exchanges and engagement on fisheries, renewable energy, connectivity, which are the current government's priority in their agenda," he said.
He called China "the rising power" and the United States "the status quo power" as he articulated the "delicate balance" that the Marcos government is doing to strengthen relations with the two rival superpowers.
He discussed some of China's domestic concerns, such as the housing bubble and the enormous impact of prolonged lockdowns. He expressed his hope that China will be "pragmatic enough to address those problems in a way that are not disruptive to their lives but also the lives of their neighbors like the Philippines."
How should the Philippines deal with China whose every action is affecting many parts of the world?
"I believe that again constant engagement with China both on the ground level, people to people, as well as the top level, between our presidents, between our top leaders, I think those are essential tools," Florcruz said.
As a former journalist, Florcruz added that "we will do our best to use all the diplomatic tools that we can to manage our very complex relations with China so that we can avoid miscalculations, misunderstandings, and accidents."
His first major undertaking will be the scheduled visit of Marcos to China in January. The visit will take place after Marcos has reestablished closer ties with Washington over the past several months. Marcos is also expected to raise the continuing incursion of Chinese vessels in Philippine waters. As of November 22, the government has issued 189 diplomatic protests against China this year, 61 of which were made since Marcos took office in July. Florcruz's deep knowledge of China will be put to test in threshing out these issues.