China's First Domestically Built Carrier Preps for Commissioning Ceremony
The new carrier is reportedly being made ready for commissioning, according to Chinese state media reports.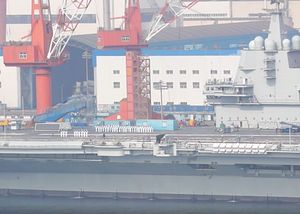 The Chinese People's Liberation Army Navy's (PLAN) first domestically designed and built aircraft carrier, the Type 002 (CV-17), which has yet to be named, is being prepared for its commissioning ceremony following the successful completion of its eight round of sea trials, according to local media reports.
The Hong Kong-based news website wenweipo.com published a video of Chinese People's Liberation Army Navy (PLAN) personnel practicing an inspection ceremony dressed in white naval uniforms on October 24. A large '1' was also painted on the ship's hull, according to the video, but the markings had been erased the next day.
Chinese naval analysts see these recent activities as indicators that the carrier will be commissioned in the near future. There has been wide expectation among analysts that the eight will be the final round of sea trials for the carrier and that it is slated for commissioning before the year's end.
In comparison, the PLAN's sole operational aircraft carrier, the 60,000-ton Liaoning, a retrofitted Soviet-era Admiral Kuznetsov-class multirole aircraft carrier, completed a total of ten sea trials before being commissioned in 2012.
The Type 002 carrier is currently moored at Dalian Shipbuilding Industry Company (DSIC) shipyard in the port of Dalian in Northeast China's Liaoning Province, after it returned from sea trials held between October 15 and 20.  The carrier was launched in April 2017, and began sea trials one year later in April 2018. As I wrote previously, the warship is a derivative of Soviet Navy carrier designs:
The 65,ooo-ton Type [002] carrier was launched at the DSIC shipyard in April 2017. The warship is an improved variant of the PLAN's only operational aircraft carrier, the 60,000-ton Type 001 Liaoning — a retrofitted Soviet-era Admiral Kuznetsov-class multi-role aircraft carrier. (…)

The [yet-to-be-named carrier] has been fitted with a so-called ski-jump assisted Short Take-Off But Arrested Recovery (STOBAR) launch system also installed aboard the Liaoning. STOBAR-launched aircraft have a more limited operational range and carry lighter payloads than fighter jets launched from so-called Catapult-Assisted Take-Off But Arrested Recovery (CATOBAR) systems used on U.S. Navy carriers. (STOBAR systems put a lot of strain on the airframe of fighter jets during take-off.)

The [future] Shandong will be able to carry up to 24 Shenyang J-15 multirole fighter jets and a variant of the fourth-generation Sukhoi Su-33 twin-engines air superiority fighter, as well as around ten rotary wing aircraft including Changshe Z-18, Ka-31, or Harbin Z-9 helicopters.
According to PLAN officers, the carrier will be able to accommodate up to 32 fighter aircraft. Air trials aboard the carrier with Shenyang J-15s kicked off earlier this year. Once commissioned, the carrier is expected to serve in the PLAN's North Sea or East Sea Fleet.