In Afghanistan, the War Goes On
After 18 years, the United States is still entangled in war in Afghanistan.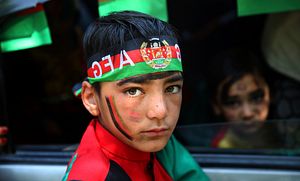 Hawa, a 30-year-old housewife, lived near a USAID-funded well on the side of a dirt road that connects Talkhak village, in Ghazni province's Malistan district, to the neighboring provinces. As usual, in the afternoon of the fall of 2008, Hawa was pumping water when a convoy of U.S.-led coalition troops passed by on the way from Uruzgan province to Ghazni City, the capital of Ghazni province. 
She waved at the soldiers; in return they dropped a package in her arms. 
The long convoy of trucks and armed vehicles passed, but Hawa was frozen still and screaming. Habib, a 35-year-old farmer, approached her and asked why she was yelling. "I had heard when you move, an explosive device explodes," Hawa told him. "Please take this package away from me." 
Habib took the package to a corner and opened it. He knew it was food and shared only portion of it with Hawa.
The food package was part of then-U.S. President George W. Bush's campaign to fight the Taliban insurgents and al-Qaeda militants who had killed nearly 3,000 Americans in the 9/11 attacks. Bush initially said the United States would go after al-Qaeda and topple the Taliban government that hosted their training camps on Afghan soil. In a May 2003 briefing in Kabul, Donald Rumsfeld, Bush's secretary of defense at the time, declared an end to "major combat" in the country.
But when Bush left the White House in January 2009, there were nearly 20,000 U.S. troops still in Afghanistan.