Russia Kicks Off Annual Nuclear Forces Readiness Exercise
The exercise will reportedly involve 12,000 troops, 213 missile launchers, 105 aircraft, and five submarines.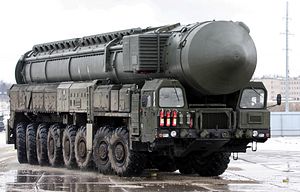 The Russian nuclear forces have today begun their annual readiness exercise, dubbed "Grom [Thunder] 2019," which will involve 12,000 troops, 213 intercontinental-range ballistic missile launchers, up to 105 aircraft and around 20 warships, according to the Russian Ministry of Defense (MoD).
The exercise will take place from October 15 to 17 in all five military districts across Russia including the Western, Southern, Central and Eastern districts, as well as in Barents, Baltic, Black, Caspian, and Okhotsk seas adjacent to Russian territorial waters involving  all the four fleets of the Russian Navy. Five nuclear-powered ballistic missile submarines and five strategic bombers are expected to take part in the two-day drill.
During the exercise, which was first held in 2012, the Russian military will test fire 16 cruise and ballistic missiles, according to the head of the Russian Ministry of Defense's (MoD) Main Department for International Military Cooperation, Major General Yevgeny Ilyin.
"The drills envisage 16 test-launches of cruise and ballistic missiles. Ten aerodromes across the country will be used for aircraft operations," he was quoted as saying by the MoD on October 14.
"Two RSM-50 [NATO reporting name: SS-N-18 Stingray] ballistic missiles will be launched towards the Chizha firing range. Also, a Yars intercontinental ballistic missile (SS-29) and a Sineva ballistic missile (SS-N-23) will be fired towards the Kura practice range," the general said.
The SS-N-18 Stingray is a submarine-launched ballistic missile (SLBM) carried by the Soviet-era Project 667BDR Kal'mar (Squid) Delta-III or Project 667 BDRM Delta IV-class nuclear-powered ballistic missile submarines (SSBN). The R-29RMU Sineva is also a SLBM designed to be launched from Delta IV SSBNs.
The SS-29 (aka Topol MR/RS-24 Yars) is a road-mobile ICBM and reportedly entered service in 2010. It is a three-stage solid fueled ICBM, with an estimated range of over 10,000 kilometers, and can deploy active and passive decoys. It is capable of carrying three to six multiple independently targetable reentry vehicles (MIRVs).
The exercise does not include Russia's newest SSBN armed with its most advanced SLBM, the Project 955 Borei-class ("North Wind") aka Dolgoruky-class carrying the Bulava RSM-56 (NATO reporting name: SS-N-30) ICBM — a sea-based variant of the Topol-M — capable of carrying up to ten warheads.
Last year's exercise did not involve the launch of ICBMs. The year before, the Strategic Rocket Force fired four SS-27 ICBMs from the Plesetsk space center located in Arkhangelsk Oblast.
It appears unlikely that the ICBMs were deliberately excluded from last year's exercise given the centrality of ground-launched nuclear assets in Russian nuclear doctrine. There has been speculation that ICBM participation was cancelled following a failed missile launch.
The exercise will also involve testing Russian nuclear command and control systems. The exercise scenario envisages a first strike by the strategic nuclear forces of an adversary (i.e. the United States and other nuclear-armed NATO powers) against Russia, which in response will launch retaliatory strikes.
In September, the Russian MoD officially declared 1426 deployed warheads, 513 deployed launchers, and 757 total launchers according to data exchanged between the U.S. and Russia under New START.