Saving Our Oceans: A Plea for Action
"One island, one atoll, one country at a time – that's how we meet this challenge."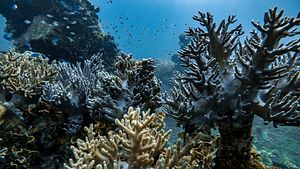 This week, world leaders gather in Norway to focus on the health of our oceans at a critical time. For island nations such as the Federated States of Micronesia, threatened as never before by climate change, seriousness of purpose isn't elective, it's existential.
For me and for the country I am privileged to lead, the climate crisis is not abstract. It is not tomorrow's faraway challenge. Fly to Norway over the western Pacific and dotted below in the blue ocean are the more than 600 islands and islets that make up the Federated States of Micronesia. Our country sits on just 1 percent dry land. 
For us, there is no climate and resilience plan without sustainable oceans at its heart. 
The challenge is not just environmental: It's fundamental for the 100,000 Micronesians who count ourselves among more than 1 billion people worldwide who depend on fish as their primary source of protein.  For us, the bleaching of corals and climate-driven changes to the basic chemistry of the oceans loom large and portend catastrophe if left unchecked. For us, the words "blue economy" are redundant. The ocean is our economy and it's inseparable from our national identity. The right thing to do for our environment is also the necessary thing to do for our economy. 
We are making decisions now to protect our waters in line with the international goal of protecting 30 percent of the world's oceans by 2030, in tandem with Blue Prosperity strategies spanning marine spatial planning to fisheries. We are making this investment to protect our waters as an inheritance for future generations. 
But even as we strive toward sustainability and resilience for our ocean waters, prosperity is a guiding star. Fishing must remain a way of life. We must keep it sustainable and profitable. We want to reap the benefits of a network of protected areas that will guard and boost fish stocks. That way, the daily catch of fishermen will go up, and we can protect corals and species so that tourism continues to grow. 
No single country created this problem, and certainly a small country like ours is bearing far greater responsibility for the solution than we ever contributed to the crisis in the first place. But we sit shoulder to shoulder in a coalition which has set a goal of growing economies while achieving 30 percent marine protection globally. Certainly, that's ambitious. Shouldn't it be? After all, there are no more ambitious stakes than ensuring the next generation can count on the oceans that previous generations pushed to the brink. Rather than point fingers, we must all point the way toward solutions. 
The reality is as simple as it is stark: In a world of rising seas and warming waters, our future depends on far bigger countries doing more. With 71 percent of the earth's surface covered by oceans, it takes a village to protect these waters, and our example must not be merely one Potemkin village while bigger countries avoid responsibility. Everyone must do more when garbage patches larger than entire countries float in the Pacific, and rising carbon dioxide levels increase ocean acidity and devastate coral reefs and marine life.
One island, one atoll, one country at a time – that's how we meet this challenge. But for those of us for whom rich marine biodiversity and coral reefs are our imperiled lifeblood, we hope other countries join us in time. Rising greenhouse gas emissions threaten to transform our oceans into vast wastelands. Illegal, unregulated fishing empties our shared waters. We must demand more from all of us to finally turn the tide.
David W. Panuelo is President of the Federated States of Micronesia.