Ahead of UN Vote, Vanuatu Says: We Must Fight for Climate Justice
If we value human rights and the rule of law, then we must fight for climate justice, argue Vanuatu's foreign minister and the Commonwealth's secretary-general.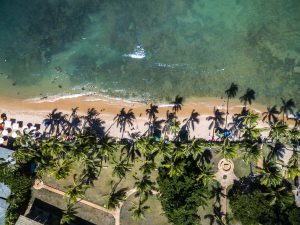 Human life is sacred and every individual deserves an equal chance in life. We have a common desire: We all want to lead a free, fulfilling existence, with dignity, where our basic needs are met, with opportunities to advance and equal treatment under the law. These are fundamental human rights, protected by international law, which we all have a shared responsibility to protect.
Out of the horrors and bloodshed of war, we created an international system for cooperation between nations under the United Nations, with our rights enshrined by the Universal Declaration on Human Rights.  
Today, our rights are threatened not only by weapons, but by the destruction of our environment, our earth, our only home. 
Climate change is wreaking havoc on people's basic human rights to life, food, water, housing, health, and a decent standard of living. And as the IPCC stated just this week, we have a "rapidly closing window of opportunity" to prevent this destruction.
We cannot let these rights be taken away from us – particularly from vulnerable communities. We must act. 
This month, when formidable twin cyclones Judy and Kevin slammed into the small island nation of Vanuatu within days of each other, they laid waste to homes, infrastructure and crops, severely impacting more than 80 percent of the population.
And like many other climate-vulnerable Pacific Island countries, whose territories are 99 percent ocean, Vanuatu could see more than a meter rise in sea levels by the end of the century, placing entire coastal communities further in jeopardy.  
Elsewhere in the world, drawn-out droughts in East Africa – the worst seen in 40 years – are killing millions of livestock and placing 17 million people at risk of starvation. 
In South Asia, tropical cyclones are becoming ever more destructive, with the likes of Cyclone Amphan (2020) displacing nearly 5 million people across India and Bangladesh.
These worsening conditions are not freaks of nature, they are a predictable – and predicted – process of intensifying environmental damage caused by human activity. The world's scientific community is unanimous and unequivocal that human influence has driven up average global temperature, causing unprecedented changes across the entire climate system. 
The burning of fossil fuels to supply skyrocketing energy needs and the release of harmful greenhouse gases continue to trigger harmful, irreversible consequences for the environment, and it is the most vulnerable which suffer the most. 
It is one of the world's deepest injustices and the root of growing inequality. While the most climate vulnerable countries have contributed the least greenhouse emissions that cause climate change, they are forced to endure the very worst of its impacts. 
Small island developing states – two-thirds of which are in the Commonwealth – contribute less than 1 percent of global emissions, while the world's poorest nations contribute less than 4 percent. Yet it is their people who are frequently and directly in jeopardy, including their rights to development, self-determination and a healthy environment.
Addressing these injustices provides the foundation for an initiative led by Vanuatu, a Commonwealth member country, to obtain official advice from the world's highest court.
On March 29, 2023, Vanuatu, along with more than 115 other co-sponsoring countries including a host of Commonwealth nations, will table a proposed resolution at the United Nations General Assembly requesting an advisory opinion on climate change from the International Court of Justice.
Such an opinion, though non-binding, would outline the obligations of states under international law to protect the environment and future generations from climate change. It would also clarify the legal consequences of harming the environment, taking into account the impacts on vulnerable communities and future generations. 
This is not an attempt to blame or shame countries for the policies of the past; it is an attempt to clarify international climate obligations, which can help all nations be more ambitious and effective. It has the potential to focus climate action not only on degrees of Celsius and tons of carbon, but on preventing the most serious climate impacts on our people and our planet.  
This moment deserves our attention. All Commonwealth countries adhere to the Commonwealth Charter, which places the utmost importance on protecting the environment and centralizes the need for multilateral cooperation, sustained commitment, and collective action on climate change. The International Court of Justice plays a vital role in multilateral cooperation as the main judicial organ of the United Nations –- and the Commonwealth Charter emphasizes the value of the rule of law at every turn. 
There is no question that international law can be a vital tool in establishing and delivering climate justice. In the most vulnerable parts of the world, it is often all that stands between climate resilience and catastrophe, between prosperity and destitution. 
When the resolution is tabled at the General Assembly, it will be worthy of careful consideration and support by all U.N. member states. The breadth and diversity of countries at the heart of this effort underscores the grim reality that climate change does not, and will not, spare any of us. In this, we do not have a choice, only a responsibility, because it is a matter of life or death. We must therefore use every mechanism at our disposal to rise to the challenge of climate justice in a fair and effective way.