Search and Rescue Exercise Highlights Malaysia-Singapore Defense Relations
A recent engagement spotlighted the security aspect of the broader bilateral relationship.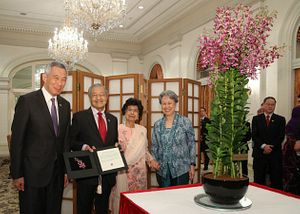 Earlier this month, Malaysia and Singapore carried out the second iteration of a new bilateral exercise. The interaction highlighted the ongoing military collaboration underway between the two Southeast Asian neighbors despite the lingering challenges in the bilateral relationship and wider regional and domestic developments.
As I have noted before in these pages, though Malaysia and Singapore have had a rather prickly relationship in the past and problems do arise in ties from time to time, their militaries interact regularly through various bilateral exchanges and exercises as well as under multilateral arrangements.
Among the newer aspects of Malaysia-Singapore defense ties in recent years was the launching of a new search and rescue exercise. The exercise, known as Search and Rescue Exercise Malsing (SAREX Malsing), was launched back in April 2018 as a command post exercise at the Multinational Operations and Exercises Center in the Changi Command and Control Center. At the time,  it was noted as a significant development since it the first joint exercise between the two air forces where the focus of a command post exercise was conceptually around SAR, allowing the countries t. exchange knowledge on SAR operations, discuss tactical procedures for combined SAR missions, and plan for simulated combined SAR missions.
Earlier this month, this manifestation of the defense aspect of the relationship was in the headlines again with the holding of another iteration of SAREX MALSING. The exercise was held between the RSAF and RMAF from September 30 to October 4 in Kuantan Air Base in Malaysia, in line with the rotation of the exercise between the two countries.
The five-day exercise involved a series of interactions. Per Singapore's defense ministry (MINDEF), this included various activities including joint aerial search and medical evaluation operations based on a simulated aerial mishap situation as well as exchange interactions between professionals and personnel.
This iteration of the exercise also saw some new developments and firsts as well relative to the first one that was held back in 2018. Of particular note was the fact that, per MINDEF, the exercise featured for the first time an RSAF AS332 Super Puma helicopter and an RMAF EC725 helicopter in SAR scenarios. The development underscored the fact that despite the fact that the exercise is just one of many defense-related interactions both sides have and is still fairly new, there are ongoing efforts to continue to gradually build it into the broader security relationship between the two countries in the years to come.