Military Chief Introductory Visit Spotlights Malaysia-Singapore Defense Ties
The visit highlighted the ongoing efforts by both sides to continue to advance the defense aspect of collaboration amid wider challenges.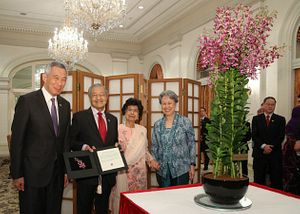 Last week, Malaysia's military chief paid his introductory visit to neighboring Singapore. The interaction highlighted the ongoing military collaboration underway between the two Southeast Asian neighbors despite the lingering challenges in the bilateral relationship and wider regional and domestic developments.
As I have noted before in these pages, though Malaysia and Singapore, two neighboring countries in Southeast Asia, have had a rather prickly relationship in the past and problems do arise in ties from time to time, their militaries interact regularly through various bilateral exchanges and exercises as well as under multilateral arrangements. That has continued on over the past few years as well, with both sides carrying out aspects of cooperation such as visits, exchanges, and drills while also managing some security-related challenges between them, including outstanding disputes.
Last week, the defense aspect of the relationship was in the headlines again with the introductory visit of Malaysia's military chief. The Chief of the Malaysian Armed Forces Affendi Buang was in Singapore for the first visit to the country in his current capacity.
Affendi's visit consisted of a series of interactions. In terms of meetings, he met with top Singapore officials, including Defense Minister Ng Eng Hen as well as Chief of Defence Force Lieutenant-General Melvyn Ong. Per Singapore's defense ministry (MINDEF), the meeting between Ng and
Affendi focused on affirming existing defense ties as well as discussing how the Singapore Armed Forces (SAF) and the Malaysian military could deal with common security challenges in the region. No further specifics were publicly disclosed about the private deliberations, including specific subjects discussed and potential avenues for future collaboration.
Affendi's trip also featured other activities as well. Per MINDEF, this included a series of visits to Singapore military facilities, including a trip to the People's Defence Force at Clementi Camp, where he observed a Peace-Time Contingency Operations (PTCO) demonstration; a static display of Army assets and weapon systems; a familiarization ride on the Peacekeeper Protected Response Vehicle; and a visit to RSS Singapura – Changi Naval Base in the afternoon, where he was hosted at the Information Fusion Centre and aboard the Formidable-class frigate, RSS Supreme. In addition to that, he also viewed the aerial and static displays and toured the booths at the Singapore Airshow 2020 at the Changi Exhibition Centre.
Unsurprisingly, not much more was disclosed regarding the private deliberations that Affendi had in Singapore or the content of some of his other engagements. Nonetheless, the introductory visit spotlighted ongoing efforts by the two neighboring countries to continue existing forms of defense collaboration as they manage challenges in the security realm as well as in their wider relationship.