Sports Diplomacy: The Case of the Two Koreas
North Korea has long used sport as a means for diplomacy, humanizing the regime and its people.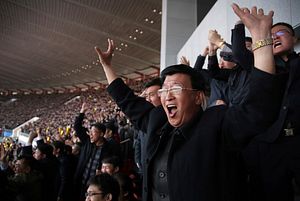 On Tuesday, October 15, the South Korean men's national football (soccer) team will travel to meet their North Korean counterparts for the first time in 30 years to play a scheduled qualifier match for the 2022 FIFA World Cup. This marks the second visit of the South Korean men's team to Pyongyang following an international friendly held in 1990.
Pyongyang was named the host of the qualifier between the two Korean teams in July 2019 at the Asian Football Confederation's (AFC) draw for the 2022 FIFA World Cup in Qatar and the 2023 AFC Asian Cup in China. The draw placed both South Korea (known as the KFA) and North Korea (PRK) in Group H. The PRK and KFA last faced off in a FIFA competition in the rounds of the 2010 FIFA World Cup, when the match was moved from its original location in Pyongyang to Shanghai after the PRK refused to play the South Korean national anthem in the North Korean capital. 
Considering the 1950-1953 conflict between the two Koreas ended in an armistice and not a peace treaty, the two countries remain technically at war. Inviting South Korea to play football at Kim Il Sung Stadium serves as an extension of peace — even if temporarily — within North Korean borders.
Using sport as a means to diplomatic ends is not a new concept for North Korea. Mao Zedong's China and North Korea strengthened ties through a "friendship first, competition second" mentality. While Chinese athletics were clearly superior to North Korea's capabilities, the Chinese would intentionally lose to North Korean athletes to simultaneously showcase China's confidence in its athletic superiority and goodwill toward its North Korean neighbor and political ally. While intentionally losing may no longer compose part of the "friendship first" repertoire, it did extend to China sending "volunteer" actors to the 2010 FIFA World Cup in South Africa dressed as North Korean supporters to cheer on the PRK side in absence of its own native cheering section.
The agreement to host the match in Pyongyang — originally proposed by North Korea — follows multiple displays of amiability seen between the two Koreas at the 2018 Winter Olympic Games held in PyeongChang, South Korea. Beyond marching under a unified flag at the Opening Ceremony, the two countries also fielded a joint women's ice hockey team. Following the Winter Olympics, in May 2018 the two countries forwent playing each other in the quarterfinals of the World Table Tennis Championships and instead combined teams, ultimately losing to Japan in the semifinal. Continuing the legacy of PyeongChang, North and South Korea have requested to send joint teams to the 2022 Tokyo Summer Olympic Games for certain events, and they have also submitted a joint bid to host the 2023 FIFA Women's World Cup. 
Football was one of the first sports to provide an opportunity to unite the two Koreas. The Korean Unification Flag — the same flag used at the 2018 PyeongChang Games, with slight alterations — first debuted at the World Table Tennis Championships in May 1991 and was used again the following month when the "Korean Unified football team" played at the 1991 FIFA Youth World Championship.
North Korea has made diplomatic strides through other sports beyond football. At the 2016 Summer Olympics in Rio de Janeiro, North Korean female gymnast Hong Un-jong took a selfie with South Korean competitor Lee Eun-ju, leading to questions of correct protocol between the two nations by international media outlets. American basketball player Dennis Rodman has repeatedly made headlines for his visits to North Korea, spending time with Kim Jong Un, and advocating the organization of a basketball game between North Korea and Guam, a U.S. territory. North Korean citizens playing sport even raises international interest, with one New York Times headline reading: "Activity Spotted at North Korea Nuclear Test Site: Volleyball."
While sports are used abroad to improve North Korea's image and humanize the regime, they are used at home to reinforce messages of national strength and glory. King Jong Il, the former leader of North Korea and its present leader's father, was famously known for his propagated identity as a sportsman. His accomplishments included reportedly shooting a 34 on a 72-stroke par golf course, with at least a Birdie on every hole and five holes-in-one. Kim Jong Un has embraced this to a lesser extent, maintaining a media-heavy love for basketball and domestic and international football. Predictably, sports propaganda extends beyond North Korean leaders to national team success, showcasing North Korean athletes besting international competitors in track, boxing, wrestling, Chinese "Go," and football. The best propaganda opportunities, however, rely on the performance of North Korean athletes in the international public eye.
Although North Korea is generally reclusive, football and other sports provide one arena where the country can improve its image through ambassador-like athletes. Jong Tae-Se, otherwise known as "The People's Rooney," is a Japanese-born Korean whose controversial dual citizenship led him to represent North Korea at the 2010 FIFA World Cup. Although Jong was unable to change his citizenship from South Korean to North Korean, he joined the North Korean national side after the de facto North Korean embassy in Japan (the General Association of Korean Residents in Japan) issued him a North Korean passport. Jong's international career brought him to Germany's 2. Bundesliga, the Japanese J-League, and Blackburn in the English Championship. Considering the Western fascination with the mysterious lives of North Korean athletes,  players like Jong normalize the presence of North Korean citizens while breaking down the stereotype of a North Korean regime that does not allow its citizens to travel. 
Han Kwang-song presents a more modern example of the political controversies that plague North Korean players abroad. Han is only recently on a one-year loan from Cagliari to Juventus' under-23 team. In January 2018, Han was rumored to be scouted to sign with major English Premier League teams including Tottenham Hotspur and Liverpool. Some news outlets speculated about the feasibility of such a move given that the North Korean government requires any North Korean professional working abroad to pay a certain percentage back to the state. As a result, British clubs might be more hesitant to sign a North Korean player knowing the salary may return to fund the regime. But Han is not the first footballer to run into this problem. When Choe Song-hyok signed as the first North Korean to feature on an Italian team with Fiorentina, questions were raised when the head of the North Korean football association visited Italy to discuss Choe's contract with the club. 
According to SoccerWay, there are currently 15 North Korean footballers abroad playing in only five countries. Only 27 North Korean footballers have ever played outside of North Korea, and they have been limited geographically to 16 countries (thus far): Austria, Cambodia, China, Denmark, Germany, Italy, Japan, Latvia, Liechtenstein, Mongolia, Qatar, Russia, Serbia, Switzerland, South Korea and Thailand. Whether as a result of actual football performance or country politics, the historical and distinct lack of a single North Korean footballer in top English, Spanish, or French leagues showcases how North Korean athletes have found themselves at the center of international debates and subject to their consequences.
Public attention has also plagued the regime as international scrutiny routinely questions the conditions and rights of North Korean athletes. While victors may be rewarded with luxury apartments, losers are rumored to be sent to prison camps. The same team which unexpectedly prevailed to the quarterfinals of the 1966 FIFA World Cup was reportedly sent to the Yodok gulag — a concentration camp reserved for enemies of the state — upon their return to North Korea. While modern speculations around prison camps may be unlikely considering the fact that players these days quickly return to the sport following an international loss, public shaming seems a more likely punishment given its entrenchment in North Korea's Workers' Party. Although the majority of this attention occurs around the Olympics, when North Korean athletes are housed in close proximity with other international athletes in the Olympic Village, footballers are an interesting case study for athlete treatment considering the men's national football team rarely succeeds.
One element missing from North Korean football is success. The North Korean men's national side has only qualified for the FIFA World Cup twice since 1958. The most miraculous of the two qualifications includes its advancement to the quarterfinals (albeit losing 5-3 to Portugal) of the 1966 FIFA World Cup. North Korea qualified for the tournament again in 2010, failing to win a single match in the group stages and losing to Portugal 7-0. Despite their 1966 and 2010 successes, the North Korean men's national football team has historically performed poorly (with an average FIFA ranking of 120 out of 210 national teams), while the women's team has excelled (average FIFA ranking of 8/161). The North Korean men's side thus affirms the potential and power of sport for diplomacy, even without a winning record.
The match on October 15 is much more than a FIFA World Cup Qualifier. It is a site visit to the stadium and city of Pyongyang in anticipation of potentially hosting the 2023 FIFA Women's World Cup. It is an international broadcast from a location that is viewed by the international community as a black hole of information. It is an egalitarian game played in a land perceived as a void of freedom. It is a continued recognition of the power of sport and football to unite and unify where formal politics has failed. The success or failure of the match will undoubtedly influence the repetition of such an event; however, while sports can play a helpful role in diplomacy, a competitive football match is unlikely to dramatically improve or diminish relations between the two countries once the stadium lights are switched off.