Trump's Devastating Silence on China's Human Rights Abuses 
Trump's obsession with "strength" at the expense of human rights has been a defining feature of his views on China.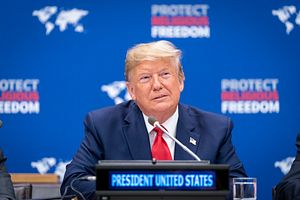 This month, we learned that U.S. President Donald Trump reportedly promised that he would tone down criticism of Beijing's repressive approach to protests in Hong Kong to protect trade talks. Far from getting tough on China, Trump once again deferred to China's leader, Xi Jinping, on his handling of human rights issues to try to reach a comprehensive trade "deal" that, despite marginal progress last week, is still nowhere in sight.
Trump's promise laid bare the reality that his brand of "toughness" has matters completely backward when it comes to China. Instead of championing universal human rights and countering authoritarianism, Trump has deprioritized human rights and lent credence to authoritarian rhetoric. This fundamental weakness in Trump's approach is not just a moral failing, but a strategic one that erodes our most enduring competitive advantage: Our values.
***
Trump's silence on China's widespread human rights abuses has been deafening. 
In Hong Kong, where millions have demanded the autonomy China is legally obligated to provide, Trump's inconsistency has undermined his credibility. Trump initially labeled the protests "riots," precisely the term that protesters have demanded that the CCP cease using. Trump framed the protests as "between Hong Kong and […] between China," then expressed that he "hope[s] it works out for everybody, including China." He praised Xi for "acting responsibly," though he could "stop them if they wanted." 
When the EU and the United Kingdom recently called for restraint following violent escalations in Hong Kong on China's National Day, Trump instead simply congratulated Xi on the CCP's 70th anniversary. While Trump recently called for China to honor its treaty with Hong Kong, residents of Hong Kong would be forgiven for finding the call half-hearted and long overdue.
Trump's silence extends to Xinjiang, a hypocritical oversight given his administration's professed support for religious freedom and willingness to target entities complicit in abuses there. Trump has not made any public statements condemning abuses in Xinjiang — where China has detained more than a million Muslim Uyghurs — including in his extended speech at his very own United Nations event on religious freedom. 
In a White House event on religious persecution earlier in the year, Trump was again clueless on this CCP-driven campaign of internment and erasure. Speaking with the daughter of a detained Uyghur scholar, he asked where in China the camps were located, and called the crisis "tough stuff" — the same words Vice President Pence used to describe the Trump's detention centers on the U.S.-Mexico border.
Trump also appears indifferent about China's long history of staunch repression of religious and cultural expression in Tibet. Reports indicate that the U.S. has not called for China to resume dialogue on Tibet's status at a cabinet level. And while Tibet's leader, the Dalai Lama, has been received by every president since George H.W. Bush, he has not been invited to meet with Trump. In an interview this summer, the Dalai Lama said that Trump's presidency and foreign policy are defined by a "lack of moral principle" — a devastating critique by one of the world's most revered spiritual leaders.
To make matters worse, Trump not only sidesteps human rights issues, but also openly admires the brutality of authoritarianism. He has fawned over Xi's consolidation of power and ability to make problems "quickly" disappear, for example praising his use of the death penalty for drug dealers. He has called Xi a "highly respected and powerful representative of his people" and announced that his "respect and friendship with President Xi is unlimited." 
Perhaps most chillingly, in a 1990 interview with Playboy shortly after the Tiananmen Square massacres, Trump marveled that the CCP officials "were vicious… they put [the protests] down with strength. That shows you the power of strength. Our country right now is being perceived as weak." 
***
The record is clear: From 1990 through to his June 18 call with Xi, Trump's obsession with "strength" at the expense of human rights has been a defining feature of his views on China.
That is a grave mistake. Authoritarian repression and human rights violations are not subordinate issues in the U.S.-China relationship, but instead at their foundation. The sheer scale of China's human rights violations alone demands international attention and outrage. 
The case for speaking out is strategic, too. To ignore these violations — and the surveillance and disinformation that fuel them — is to ignore a central feature of CCP rule today. Speaking resolutely in defense of universal human rights in public rhetoric and diplomatic channels offers a sharp contrast with Beijing and raises the costs of their repression. An enduring China strategy will require that the U.S. respond in this way to China's increasingly influential (as the NBA's recent capitulation demonstrates) and repressive leadership, even as we balance related core interests in this supremely complex relationship. 
Speaking out is also a moral imperative of global leadership. Further delaying this reckoning with China's human rights record will only compound the human costs as China keeps testing new forms of repression in its "laboratories of authoritarianism." CCP Secretary Chen Quanguo instituted a repressive surveillance state in Tibet before he became the architect of abuses in Xinjiang. China is already replicating restrictions from Xinjiang in Hui Muslim communities in Ningxia, and deploying its surveillance technologies in other major cities. 
It is not too late for leaders on both sides of the aisle to reverse the damage done by Trump's rhetoric, and, just as often, his silence. To do so, they will have to regain America's voice — and use it.
Naz El-Khatib is associate director of policy at National Security Action. He focuses on major issues in contemporary U.S. foreign policy, principally U.S.-China relations, democracy and human rights, and climate change. 
Ashley Wood is a research associate at National Security Action. She focuses on U.S.-China relations, North Korea, and immigration issues.