Why Foreign Policy Matters to Myanmar's Democratic Transition
In the best-case scenario, Myanmar would be rich like the East and democratic like the West.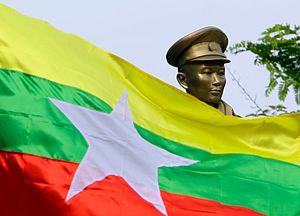 Global media coverage has not been easy on Myanmar. The refugee crisis in northwestern Rakhine sparked a firestorm of international criticism that has only been intensified by allegations of ethnic cleansing. A barrage of punitive actions followed, though most were targeted at the Tatmadaw, the Myanmar military, and have not yet resulted in drastic, direct impact on the population at large. Still, serious contemplation was given to imposing broader economic restrictions, in particular the withdrawal of general scheme of preferences benefits by the European Union (EU). 
Myanmar's tarnished images also brought about a decline in tourist arrivals, notably from Western countries. Foreign investors, fearing economic sanctions and reputational risk, have hesitated to bring in more capital. Coupled with public dissatisfaction over the pace of economic reforms and a period of exchange rate volatility, the country's growth forecast has decreased to 6.2 percent in the 2018/2019 fiscal year, from the 6.8 percent growth experienced in the 2017/2018 fiscal year.  
On the economic front, the situation appears to be improving. Further structural reforms, market liberalization, and investment promotion drives have successfully raised growth forecast figures again – 6.6. percent for 2019 and back to 6.8 percent for 2020. Myanmar recently made the World Bank Group's list of top 20 reformers in doing business – a clear sign of ongoing reforms, and a retort to skeptics who claim that reforms have stalled. Quick fixes such as issuing tourist visa exemptions to East Asian countries are also compensating for the decline in visitors from the West. Foreign aid and technical assistance from bilateral and multilateral partners have also continued unabated. 
Still, allegations of ethnic cleansing persist and the refugee crisis remains unresolved. If international reaction and its consequences in the aftermath of August 2017 offer any lesson, it is this – international goodwill, and as corollary a comprehensive, strategic approach in foreign policy-making, is indispensable to continued democratization and growth in Myanmar.
The proof lies no further than in recent history. Myanmar had the potential to become an "Asian tiger" in the post-war era. This was followed by nearly a half century of military junta rule rife with corruption and mismanagement. The result was isolation from the international community, while globalization was going full steam ahead and Myanmar's neighbors were reaping its rewards. Myanmar became the poor house (with a dysfunctional family) in a neighborhood that was on balance getting richer.
The country's isolation was partially self-inflicted (by its oligarchs) and partially imposed upon it through political and economic sanctions by the international community. The consequences of isolation were plenty – poverty, corruption, unscrutinized political oppression, and the conferment of "pariah state" status. It would be a stretch, of course, to suggest that Myanmar could ever go back to its pre-reform pariah state status. But it would be correct to infer that any major missteps in foreign relations can severely affect the ongoing democratization process.  
The fact is that while the impetus for reform came from within, the resources for implementing change can only come from without. Capital for economic development is dependent on foreign investment and trade. Foreign aid and technical assistance are indispensable for social development. And economic and social development will in turn provide the incumbent administration with greater public support to continue political reforms and fulfill its greatest promise: the forming of a genuine federal union. 
For a myriad of reasons, Myanmar cannot escape international scrutiny. And when any domestic conflict has the potential to become an international concern, diplomacy inevitably becomes the first line of defense. 
But is defense alone adequate?
With Myanmar strategically sandwiched between two rising powers of the "Asian Century" – China and India – any major domestic conflict will inevitably attract global attention, and more often than not, condemnation. This geostrategic positioning also places Myanmar squarely between the East and the West, making international involvement and concern unavoidable.
Moreover, Myanmar is one of five economic corridors for China's Belt and Road Initiative (BRI). The country is China's western seaboard through the Kyaukphyu deep-sea port in southern Rakhine. In northern Rakhine, India is building its Kaladan multimodal transport link – to serve as maritime access to develop its impoverished northeastern states, not unlike China seeking maritime access through Myanmar to speed up development for its landlocked western provinces. The China-India strategic rivalry is manifesting itself on Myanmar soil, and in one of its most conflict-ridden states no less. 
Adding to the strategic rivalry between Myanmar's giant neighbors is the rising tension between "strategic adversaries" China and the United States. Myanmar can ill-afford straining relations with either superpower. Nor can Myanmar take sides in the rivalry. Geopolitical proximity – including a very long border – dictates that money will flow from the East — China. Affinity in political philosophy suggest that democracy (or rather, assistance in building one) will come from the West — the U.S. and the EU. 
In the best-case scenario, Myanmar would be rich like the East and democratic like the West. Foreign policy failures can knock down pillars of growth necessary for continued democratization. Yet foreign policy success has the potential to reap massive rewards for the country, especially when implemented by a ruling party that came to power backed by the goodwill of the international community.  
But foreign policy goes beyond election cycles and international law binds states, not governments, to contracts and agreements, meaning that any commitment made by governments prior – be they military juntas or democratically elected ones – must be honored by any government that follows.
Strategic long-term planning is now an absolute necessity – Myanmar's geopolitical realities and their impact on the democratization process make it so. Otherwise, Myanmar risks getting caught in rising East-West rivalries, domestic conflicts will continue to draw international attention, and foreign investment, aid, and relations will ebb and flow with the tide of either international approval or condemnation.
Hnin Wint Nyunt Hman is a researcher at the Myanmar-Institute of Strategic and International Studies. The views and opinions expressed are her own.