Death of a Caliph: The Islamic State in Khorasan Province After al-Baghdadi
ISKP continues to pose a real threat to Afghanistan, despite al-Baghdadi's death.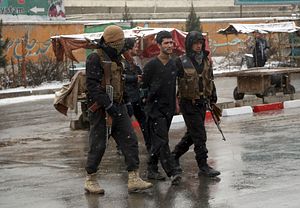 The recent killing of the Islamic State's (IS) caliph, Abu Bakr al-Baghdadi, in Syria had sparked speculations in counterterrorism circles about the future course of the global jihadist terrorism movement. Despite the symbolic and high-profile nature of al-Baghdadi's killing, it will not significantly alter the threat that IS poses in Afghanistan and its immediate neighborhood or its ability to operate and execute attacks in the region due to a large presence of foreign terrorist fighters (FTFs) and the group's ability to endure losses.
The IS "province" (wilayat) in Afghanistan known as IS Khorasan Province (ISKP) has an estimated 2,500-4,000 fighters and is currently present in Nangarhar and Kunar provinces in eastern Afghanistan along with logistical bases straddling the Durand line. The group has carried out multiple attacks in Afghanistan, especially on soft targets and Shia minorities, causing significant casualties. It maintains the ability to carry out countrywide mass casualty attacks using a network of covert cells and is also capable of executing overseas attacks. ISKP also retains ideological and operational links with certain Central Asian and Pakistan-based groups.
ISKP's Defiance of Setbacks in Afghanistan
ISKP, despite its promising start, was unable to consolidate its presence in Afghanistan and has had a series of losses to U.S., Afghan, and Taliban forces. ISKP losses since its establishment in 2015 include four emirs (leaders) and around 544 top and mid-level leaders as of September 2019. Despite its territorial, personnel, and leadership losses it continues to endure and while there has been a reduction in the number of attacks by ISKP, the lethality per attack has increased gradually. While Afghanistan's difficult terrain and porous borders with Pakistan and Central Asia can explain ISKP's resilience to an extent, it is the inability of regional powers to find common ground in combating the group and the failure of the Afghan government to consolidate its presence in areas of ISKP influence/control that has allowed it to persist.
ISKP has always had strong links to Islamic State-Central in Iraq and Syria – including those related to leadership appointments, propaganda, and resource allocations – and it had firmly operated under al-Baghdadi's auspices. The degree of support wavered, however, after the fall of the last IS stronghold in Baghuz, Syria in March. Still, IS-Central's amount of control over ISKP was made evident when its fifth emir was replaced in April due to poor performance in the context of ISKP setbacks in Nangarhar in 2018. This leadership change was made during a visit by an IS-Central delegation to Afghanistan, which highlights their direct relationship even after IS lost its last territory no more than a month before.
With al-Baghdadi now dead, ISKP would be more reliant on local sources of revenue and support than ever before and it might attempt to carry out high-profile attacks to garner funds and recruitment. This might lead to increased clashes with existing regional militant groups such as the Taliban and Lashkar-e-Islam over a scramble for resources, taxation areas, and smuggling routes. However, Afghanistan has the potential to become an IS hub as it is located at the crossroads of Central Asia, the Middle East, and South Asia, which already has an existing jihadi ecosystem and large ungoverned or partially-governed areas. Plus, thousands of fighters had fled from Syria to Afghanistan as IS was gradually losing territory. In May, after the IS-inspired Sri Lankan serial bombings in April, Islamic State declared two new "provinces" in South Asia – IS-India and IS-Pakistan – suggesting that IS could be creating custom strategies to better fit situations in different regions, rather than a wider template under ISKP. This would be in line with al-Baghdadi's instructions on September 16 to shift from "enduring and expanding" to "expanding and spreading."
ISKP's Connections With Foreign Terrorist Fighters in Afghanistan
There are apprehensions that in the event of reconciliation between the Afghan government and the Taliban, the latter's hardcore elements, along with other FTFs with the Taliban, may shift their allegiance to ISKP. According to one of the Afghan founding members of ISKP, Abdul Rahman Muslimdost, it may have the support of Pakistan in such a scenario. Muslimdost's warning may not be without merit as Lashkar-e-Taiba (LeT), a terrorist group with links to Pakistani intelligence, had reportedly tried to negotiate a truce between the Taliban and ISKP but failed. LeT also acts as a key recruitment and fundraising facilitator for FTFs in Kunar province, where ISKP is present along in addition to around 500 LeT fighters. Also the Haqqani Network, another Pakistan-based terrorist group affiliated with the Taliban's Miranshah Shura, has stayed neutral with regard to ISKP and it also has connections to Pakistani intelligence. It should also be noted that most FTFs in Afghanistan are Pakistani.
Already there is a drive for increased recruitment, expansion, and funding across Afghanistan by ISKP as evidenced by the arrest of ISKP members attempting recruitment in places like an American-funded university in Kabul, and the arrest of a deputy leader of ISKP as well as the presence of ISKP fighters in the westernmost province of Herat in September, more than 1,000 kilometers away from ISKP's stronghold in Nangarhar. There is also the threat of increasing radicalization of inmates in Afghan prisons such as Pul-e-Charkhi, where petty criminals intermingle with extremist elements with no ban on external communications.
On November 6, ISKP carried out an attack on a security checkpoint on the Tajikistan-Uzbekistan border leading to 15 ISKP and two Tajikistani casualties with five of the attackers captured alive. A spokesman for the Tajikistan Interior Ministry said that the attackers were Tajikistani citizens and Afghan officials said that the attackers had crossed into Tajikistan from Kunduz province in northern Afghanistan via a porous border crossing controlled by the Taliban. Local Afghan officials stated that the attackers had been in the area for two to four weeks, having come from Nangarhar, and had been carrying out recruitment. The fact that at least 20 ISKP fighters were able to travel from southeastern Afghanistan to the Tajikistan border without encountering any government or Taliban resistance and were able to operate across the border for weeks indicates how resourceful and resilient ISKP is.
It is possible that these Tajik attackers were part of ISKP's Central Asian contingent (numbering some 200 fighters) led by Tajik national Sayvaly Shafiev, an ISKP shura (leadership council) member, who is also known to operate in Nangarhar. Shafiev has been carrying out recruitment, fund-raising, and propaganda in the Tajik language and is allegedly responsible for reaching out to Tajik migrant workers in Russia for recruitment and helping them travel to Afghanistan for training. Other Tajik members of IS such as Abu Usman Noraki and Gulmorad Khalimov have been speculated to be directing overseas attacks from Afghanistan in the past.
Conclusion
This recent attack along with other recurring ISKP attacks in Afghanistan and its neighboring countries indicates that, contrary to what Afghan officials believe, the ISKP threat is not negated by al-Baghdadi's killing. Instead, the self-proclaimed Caliph's death will only cause further unpredictability in the jihadist landscape in the region. More than 20 different terrorist groups are known to operate in Afghanistan and the presence of 8,000-10,000 FTFs provide scant comfort despite al-Baghdadi's demise and the prospects of an Afghan peace agreement.
Saurav Sarkar is a Research Associate at the Center for Air Power Studies, Western Air Command, New Delhi.