France Hands Over Three Rafale Fighter Jets to India
Three French-made Rafale multirole fighter jets have been officially handed over to the Indian Air Force to date, according to a senior Indian official.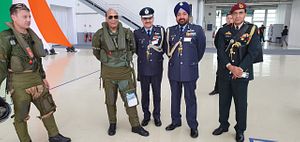 French aircraft maker Dassault Aviation has handed over a total of three Rafale multirole fighter aircraft to the Indian Air Force (IAF) thus far, the Indian government said in a November 20 statement. The three aircraft are reportedly being used to train IAF pilots and technicians in France.
Dassault Aviation handed over the first of 36 Rafale fighter jets on order for the IAF in a ceremony at the company's Bordeaux-Mérignac production facility on October 8. The Indian government did not clarify when the IAF took delivery of the other two aircraft. Delivery of all 36 aircraft is expected to be completed by April 2022.
IAF pilots are flying the new fighter jets for at least 1,500 hours in France as part of the induction process into service.
The first batch of four Rafale aircraft is expected to arrive in India in May 2020. Eighteen Rafale fighter jets will serve in the IAF's 17 Squadron at Ambala Air Force Station.  The second batch of 18 aircraft will serve in the IAF's 101 Squadron at Hasimara Air Force Station in northeastern India. The first squadron is expected to become operational by February 2021.
The aircraft will be fitted customized add-ons, so-called India Specific Enhancements, which includes helmet mounted-display sights, a new electronic warfare package, infrared search-and-track sensors, and cold weather engine start up gear for operating the aircraft from high-altitude airfields, next to others. The add-ons cost an estimated $1.1 billion.
Flight certification for the first upgraded Rafale fighter jet is slated to be completed by the end of 2021.
The aircraft will be armed with MBDA's Meteor beyond visual range air-to-air missile and the Anglo-French Storm Shadow low-observable air-launched cruise missile. The twin-engine, canard delta wing, multirole fighter aircraft is also capable of carrying air-launched nuclear missiles.
India ordered 36 Rafale fighter jets in September 2016 for $8.7 billion. Indian Prime Minister Narendra Modi concluded a government-to-government deal with then French President Francois Hollande for the purchase of the aircraft in fly-away condition.
Originally, India was expected to purchase 126 Rafale fighter jets as part of a $12 billion contract under the medium multi-role combat aircraft (MMRCA) tender. The deal principally fell apart over disagreements between New Delhi and Paris over the local manufacturing of 108 of the 126 aircraft spearheaded by India's Hindustan Aeronautics Limited (HAL).
The IAF aims to add 200 to 250 new aircraft in the medium-weight fighter jet category to increase the number of operational IAF fighter squadrons from 33 to 42 by 2027. As a result, the service has reportedly been pushing for ordering an additional 36 Rafale fighter jets from France.  According to the IAF, a Rafale follow-up order would be about 40 percent cheaper than the price for the first batch of 36 aircraft.