General Dynamics to Begin Construction of First Columbia-Class Ballistic Missile Sub in 2020
Construction of the first-of-class Columbia could begin in late 2020, according to the CEO of General Dynamics.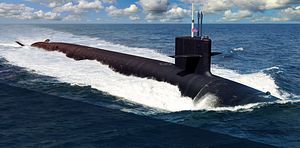 Construction of the first-of-class Columbia, the lead boat of a new class of nuclear-powered ballistic missile submarines (SSBNs) for the U.S. Navy, could begin in late 2020, according to the CEO and Chairwoman of U.S. defense contractor General Dynamics, Phebe Novakovic.
Speaking at the Baird Global Industrial Conference in Chicago on November 6, Novakovic said that the company has finished design work on the new SSBN class and that construction plans are 53 to 55 percent complete.
"The exact timing of a lot of this, and that first boat, which will be on a cost-plus [contract] basis, will depend on the contract that is yet to be negotiated," Novakovic was quoted as saying by the Washington Business Journal.
"And our growth around that, we'll have some nice incremental growth in 2021 and 2022, a little bit offset by our decline in engineering as we move from the engineering phase on Columbia into the construction phase."
The Columbia-class is being built by General Dynamics Electric Boat in Groton, Connecticut and U.S. shipbuilder Huntington Ingalls Industries' (HII) Newport News Shipbuilding division in Virginia as part of a joint venture.
General Dynamics Electric Boat was awarded a $5.1 billion contract for detailed design work for the Columbia-class fleet in September 2017.
HII held a first steel-cutting ceremony at its Newport News Shipbuilding division on May 23 to mark the beginning of the advance construction of the first-of-class boat.
The Columbia class is slated to replace the Ohio class of SSBNs, 14 of which are currently in service with the U.S. Navy. Total procurement cost for the SSBN class is estimated at over $100 billion.
U.S. Navy Rear Admiral Scott Pappano, the program executive officer for the Columbia class, recently said that the service will negotiate contract details for the first two boats in 2020. A request for proposals for the first two hulls was already sent out and he expects a contract to be concluded before October 2020.
"The contract needs to be in place in [Fiscal Year 2021] so that we can get construction rolling and meet that FY '27 delivery," he said at the Naval Submarine League's annual symposium held last week, according to USNI News. "So the thought process is, contract those two ships under one contract, a cost-plus contract, and then use lessons learned from that to do fixed-price contracting for hulls 3 and beyond."
An earlier begin of construction will also allow a more advanced delivery date.
The first-of-class Columbia was initially expected to be delivered to the U.S. Navy by 2028. "After being delivered in [fiscal year] 2028, the lead boat would undergo substantial testing, with the aim of having it be ready for its first deterrent patrol in 2031," according to a May 2019 Congressional Research Report.