It's Time for Tajikistan to Become a Startup Nation
For Tajikistan to fulfill its potential it must develop its human capital, boost access to financing, and tap into international networks.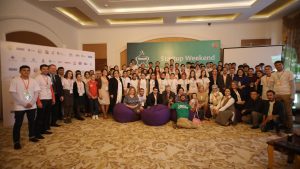 Alif Sarmoya, a fin-tech startup, came on to the market in Tajikistan six years ago. The company started as an organization that brings financial, retail, corporate, and private banking services to people using informational technologies. It was launched by three young Tajiks educated in the United Kingdom and United States. Today the company boasts over 250 employees and is expanding regionally. At its core, Alif Samoya's business is a revolution in the Tajik banking sector. The company wants Tajikistan to go cashless, and provide the technological infrastructure to achieve that ambition. In addition, the company is also contributing to the development of the country through the launch of Alif Academy, where it teaches youth skills such as coding and programming.  
Tajikistan, a landlocked country in Central Asia, depends economically on remittances from labor migrants. Brain drain is a major problem. The local business environment is also challenging. Nevertheless, Tajikistan is witnessing the growth of a bottom-up, grassroots high-tech startup culture. 
Of Tajikistan's 8.9 million citizens, an estimated 70 percent are below the age of 30. Technology and globalization are changing the mindset of the country's younger generation. Social media, online education, international travel, and global awareness are increasing the younger generation's interest in innovation and technology. Indeed, digital development is the future of the global economy. Researchers estimate that the digital economy is worth to 15.5 percent of global GDP and has grown 2.5 times faster than global GDP over the past 15 years. If governments can navigate the path to highly digital economies, it can result in a $1.7 trillion boost to global GDP in 2025 according to one projection, equivalent by then to putting an extra $500 per year in the pocket of every person of working-age around the globe. Countries like Estonia or Israel that do not boast natural resources were able to develop themselves as startup nations by investing in human capital and digital infrastructure and creating favorable business environments. Given the lack of natural resources, it is vitally important to support the growth of a digital ecosystem in Tajikistan. The country has the opportunity to become the next Israel or Estonia, the next high-tech powerhouse. It is time for Tajikistan to become a startup nation.
For Tajikistan to fulfill its potential it must develop its human capital, boost access to financing, and tap into international networks.
One 2013 estimate suggested that only 10 percent of graduates of Tajik IT programs were employable upon graduation. The lack of IT specialists on the market is leading to the growth of educational institutions offering digital programs. Notable examples include Alif Academy, mentioned above, which offers training in coding and digital design. Tajrupt, a Khujand-based organization, teaches machine learning. Corporations in the telecom sector also are investing heavily in digital education. Daniel Zaretsky, an American entrepreneur, notes that it is important to engage both the Western and South Asian universities to boost the growth of ICT related programs in Tajikistan. It is important to partner with global educational institutions and launch coding programs at local universities. In addition, the incorporation of coding classes at the secondary education level, or earlier, will motivate youth to engage in technology startups in the future. 
Beyond human capital, access to financing is incredibly important for startups. Currently, startups in Tajikistan have the opportunity to raise funds only through channels such as accelerators, startup events, or, when possible, bank loans. High interest rates for accessing loans, ranging from 18 percent in foreign currency to about 35 percent in local currency, in connection with collateral requirements, make it very hard to access funding. Accelerators and companies such as 55 Group are starting to invest in startups by organizing competitions and incubation programs. Startup Weekend events help entrepreneurs to connect with networks for early funding. The next step is to boost the development of angel investment, crowdfunding, and the venture capital market. It is important to form a federation of angel investors in Tajikistan that would certify angel investors and connect them with startups.   
Tapping into international networks — for education, development, financing, and networking — is critical. Over the last five years we have seen a spike in the number of startup events in the country, such as Startup Weekend, Startup Choihona, Startup Central Asia, and so on. These events are important to educate youth about entrepreneurial opportunities in the technology sector. They give the first steps for connecting the startup ecosystem with international networks. Numerous ideas receive initial funding for their projects. These events are very important; however, they tend to be organized on an ad-hoc basis dependent on donor funding. Private sector companies, successful entrepreneurs, educational institutions, and policymakers should be more involved in these network formation activities.
Is the dream of Tajikistan as a startup nation possible? Critics will say the cost of the internet in Tajikistan is too high and current speeds too slow to jump into the digital economic boom. They are right. According to the Worldwide Mobile Data Pricing Index conducted by cable.co.uk in partnership with M-Lab, Tajikistan is was ranked 103rd out of 230 countries on the cost of internet in 2018. In Tajikistan, private telecommunication companies buy wholesale internet traffic from a state-owned company and redistribute it to the population. Introducing open competition for obtaining internet access could help lower prices and quicken speeds. 
Some argue that Tajikistan, a small market, cannot enable companies to grow or attract investors. However, the current integration process at play in Central Asia is already showing how local startups can expand into other countries of the wider region, boasting a population of 72 million. If we think of Tajikistan as part of that larger network, that larger market, investment there is not a small matter at all.
Tajikistan is experiencing dynamic grassroots digital development. Companies like Alif are empowering the population and serving as role models for aspiring entrepreneurs. Israel and Estonia were able to develop themselves as startup nations. So can Tajikistan. One day, labor migrants will no longer need to leave their families in search of jobs abroad. Global investment firms will come and invest in Tajikistan's tech sector.  We can make it happen. It is time for Tajikistan to become a startup nation. 
Ilhom Aliyev is a visiting fellow at Central Asia Program of Elliott School of International Affairs, GWU. He served as the Executive Director of the American Chamber of Commerce in Tajikistan (AmCham Tajikistan) from 2015 to 2019.