New Zealand Takes the Lead on Climate Change
New Zealand cements itself as leader in the Pacific on climate issues as Australia abdicates.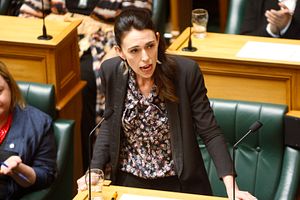 In a move praised as this generation's "nuclear moment" by Prime Minister Jacinda Ardern, New Zealand's parliament last week passed landmark legislation that enshrines the country's commitment to the Paris Agreement into law. 
In a bid to become mostly carbon neutral, the Zero Carbon Bill sets a net-zero target for almost all greenhouse gas emissions by 2050 and creates an independent Climate Change Commission to steer government policy. The government has also promised to plant 1 billion trees over 10 years and ensure that the electricity grid runs entirely from renewable energy by 2035.
In a rare national consensus on climate change policy, the bill was spearheaded by Jacinda Ardern's liberal government and was supported by the main conservative opposition party.
Ardern said she sometimes despairs at the pace at which other countries are making changes to fight climate change and vowed that New Zealand would not be a slow follower. 
"We're here because our world is warming. Undeniably it is warming," she said. "Therefore, the question for all of us is what side of history will we choose to sit on."
The bill effectively cements New Zealand's position as a climate leader in the Pacific, a position that the Australian government has appeared willing to abdicate. In contrast to New Zealand, Australia has fiercely defended its reliance on fossil fuels. 
In August, Australian Prime Minister Scott Morrison was scolded by Pacific Island leaders for his decision to open more coal mines while sea levels in the Pacific continued to rise. Ahead of the Pacific Islands Forum, Ardern warned the Morrison government that it would have to answer to the Pacific for its climate policy. Morrison, however, was not willing to let the plight of the Pacific deter him from keeping a promise he made during the election earlier this year of putting industry ahead of climate.
Following the election, Australia's main opposition party all but dropped its own climate policy, perhaps acknowledging that Australians ultimately voted against it. This has, however, left many Australians disillusioned with the government's environmental policies and in awe of New Zealand's.
So different are the Australian and New Zealand governments that Ardern's political rival has even met with Morrison aides to take advice on defeating a progressive opponent ahead of the New Zealand federal election next year. 
While Morrison has refused to accept that climate change has anything to do with the more than 300 bushfires currently ravaging the east coast of Australia, 23 former Fire and Emergency service chiefs, commissioners, and experts have criticized the government's refusal to heed their repeated warnings and for its failure to prepare the country for what experts have said will be the worst bushfire season the country has ever seen.
Despite Morrison's efforts to appease those more concerned with the economy than the environment, Richard Denniss, a chief economist at the Australian Institute believes that the government embrace of coal is simply a transition away from economics and common sense.
"Australia is the world's largest exporter of coal. If Australia opened the Adani mine, and all the other mines proposed in Australia, we would indeed double our coal exports. But we would also drive down the world price of coal, drive down production in existing coalmines, and drive up global emissions," he wrote for The Guardian in August.
Signed in 2015 by 197 countries, the Paris Agreement was the first truly universal agreement among nations to tackle climate change. Amidst international condemnation, the Trump administration officially notified the United Nations last week that it would formally withdraw from the agreement — a decision Trump promised would boost the U.S. oil, gas, and coal industries.
The only two countries that didn't sign up to the agreement in 2015 were Syria, which has been embroiled in a civil war for more than eight years, and Nicaragua, which said the deal did not go far enough. Nicaragua already gets more than half of its energy from renewable resources and is aiming to bump that up to 90 percent in 2020.