Morrison Failed Australians on Climate. Will It Cost Him the Next Election?
Given disastrous bushfires, floods, and global humiliation on climate policy during Morrison's tenure, it's possible Australians will be ready to make a shift.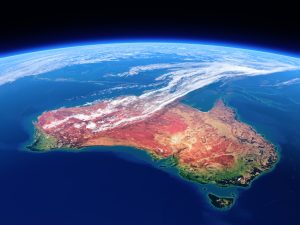 Climate action is front and center for many Australians going into next month's federal election, yet the Morrison government, in announcing its 2022-2023 budget earlier this week, mentioned the word "climate" just once. 
Leading economist Nicki Hutley said just 0.3 percent of total expenditure for 2021-2024 has been committed to climate change initiatives, before falling to just 0.2 percent in 2024-2026. 
"Rather than investing in a green economic future, the Federal Government has used tonight's Budget to toss mere pennies at genuine emissions reduction initiatives, such as the regional renewable microgrids," said Hutley.
"At the same time, significant funds are being spent on so-called 'low emissions hydrogen' and the costly and unproven carbon capture and storage. And a further AU$50 million dollars is being directed to accelerate polluting gas projects."
The Guardian reports that the budget papers show climate spending will decrease year-on-year, from $2 billion next financial year to $1.9 billion, $1.5 billion, and $1.3 billion in the three years that follow. It's all just a taste of the Morrison government's plan if it retains power at the next election. At the moment, that's a very big if. 
A Climate Council survey, part of its report titled "The Lost Years: Counting the Costs of Climate inaction in Australia," found that not a single group – by age, voting preference, or location – rated the government above 5 out of 10 on its action on climate change. One in four (26 percent) surveyed rated the government a 0 for "not doing anything at all."
The Morrison government's record on climate has been abysmal. Since Morrison was elected in 2018, he's seen Australia's worst ever bushfire season (34 people and more than 1 billion animals were killed), the worst floods in over a century (25 people have perished so far), two mass bleachings of the Great Barrier Reef (the largest coral reef system in the world), cyclones, and heatwaves. 
Despite the impacts of the climate crisis, Morrison's government has over the same time propped up more coal and gas projects, repeatedly humiliated Australia at climate conferences around the world, and questioned the science surrounding renewable energy and at times even questioned the science behind climate change itself. 
A report commissioned by the Australian Business Roundtable for Disaster Resilience and Safer Communities found that climate change-related disasters will cost Australia $94 billion a year by 2060 if nothing is done to curb emissions. Even if action was taken now, it would still cost the country $73 billion a year. 
With poll after poll suggesting that the vast majority of Australians care deeply about climate change, it should be a given that Morrison will lose at the ballot box next month. But research published last year that analyzed Australian voters across the political spectrum in the context of the 2019 federal election found that while 80 percent of voters believe Australia should reduce gas emissions (including 70 percent of conservatives), there are stark differences between voters on how important it is. 
In 2019, when Morrison won the "unwinnable election," the key question going into the election was whether climate change mattered enough to Australians. The polls said "yes," but with Morrison promising very little climate action in contrast to his opponent, and winning anyway, many were left asking what went wrong. 
The authors of the research that analyzed voters in 2019 have since said that the more critical question may well be whether climate change matters enough to Australians to shift climate politics. With the disastrous bushfires, floods, and global humiliation that will forever haunt the Morrison's tenure, it's very possible enough Australians will be ready to make that shift.