Newest Virginia-Class Attack Sub Delivered to US Navy
The U.S. Navy took delivery of its newest nuclear-powered fast attack sub in late October.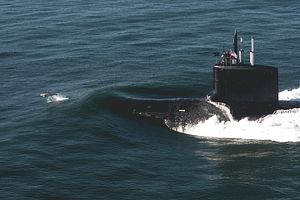 U.S. ship maker Huntington Ingalls Industries (HII) delivered the latest 7,800-ton Virginia-class nuclear-powered attack submarine (SSN), the future USS Delaware (SSN-791), to the U.S. Navy on October 28.
The future USS Delaware is the ninth Virginia-class SSN to be delivered by HII's Newport News Shipbuilding division and the 18th built as part of the teaming agreement with General Dynamics Electric Boat, according to a company press statement.
The future USS Delaware was christened by Jill Biden, the former Second Lady of the United States and the ship's sponsor, at the company's Newport News shipyard on October 20 last year. The submarine was launched in December 2018.
Construction of the new sub kicked off in September 2013. It is the final Virginia-class Block III SSN to be launched as part of a $17.6 billion contract the U.S. Navy awarded for the construction of ten Block IV Virginia-class SSNs in 2014.
In comparison to Block I and II boats, Virginia-class attack Block III SSNs are all fitted with the so-called Virginia Payload Module (VPM) – two large-diameter tubes that replace 12 individual vertical launch tubes and increase the submarine's missile payload at a lower cost. As I explained elsewhere:
While the first 10 Block I and Block II Virginia-class submarines feature 12 individual 21-inch diameter vertical launch tubes able to fire Tomahawk Land Attack Missiles (TLAMS), the Block III boats are built with two-larger 87-inch diameter tubes able to house six TLAMS each (…) The new 87-inch tubes have been designed to accommodate future missile systems in addition to the Tomahawk.
The submarines can carry up to 24 torpedoes and Tomahawk cruise missiles. Furthermore, I noted:
In addition, Virginia-class Block III boats are equipped with four torpedo tubes for MK48 torpedoes. Furthermore, next to a redesigned bow, Block III Virginia-class boats also contain a water-backed Large Aperture Bow [LAB] (…) sonar array that replaces the air-backed sonar sphere found in the first 10 [Virginia-class subs.] This, in combination with the its so-called fly-by-wire capability, enables the boat to perform important intelligence and surveillance missions.
The new LAB requires fewer parts and less maintenance than previous Virginia sonars. Block IV SSNs will incorporate all of the improvements listed above "to allow the boats to spend less time in the yard — from four major maintenance periods to three — and to squeeze an extra deployment out of the design." according to USNI News.
The future USS Delaware is expected to be commissioned next year.