Taiwan's Difficult-Yet-Viable Indigenous Submarine Project Needs Cross-Party Support
Han Kuo-yu's controversial comments on the submarine project spark a backlash.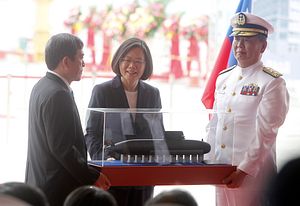 Facing an existential Chinese threat to Taiwan's very existence, President Tsai  Ing-wen's administration is implementing an Overall Defense Concept (ODC) that will provide a forceful deterrence package to any military attack by China. The development of the Indigenous Defense Submarine (IDS) policy is one key aspect of the ODC. The IDS has been an official defense policy for Taiwan since 2014 under the Ma Ying-jeou administration. In May 2019, the Tsai government revealed a miniature model of Taiwan's first domestically-designed and produced diesel-electric attack submarine. The sea trials on a prototype submarine are anticipated to begin as early as 2024 and ultimately Taiwan plans to build eight indigenous submarines.
However during a campaign event on November 9 in Keelung — a northern port city that also happens to host one of Taiwan's major naval bases — KMT presidential candidate and Kaohsiung mayor Han Kuo-yu claimed that he has doubts about this policy. "Do we have the capability of producing engines and complex interior systems?" Han queried. He then went on to advise the DPP government to "not bite off more than you can chew." Instead, Han declared that if he is elected, he would develop Taiwan's Artificial Intelligence (AI) technologies and adopt Lee Kuan Yew's "poisonous shrimp" defense strategy — one designed to signal any larger country that trying to swallow the island state would be painful.
Han's comments were met with pushback from multiple sectors of Taiwan's political and policymaking world. Premier Su Tseng-chang expressed great dissatisfaction in response to the mayor's skepticism, calling Han's ideas out of touch with reality. Han should not look down on the Taiwanese military's capabilities, said Su: "Many areas of Taiwan's technological developments are confidential, but as President Tsai promised, the indigenous submarine will impress everyone in the future."
The China Shipbuilding Corporation (CSBC) is the main company that produces ships for civilian and military use in Taiwan. The CSBC labor union announced its decision to support Tsai in the upcoming presidential election, stating that Han's comments reveal that he does not fully understand the shipbuilding industry or defense policy.
Taiwan's Navy Headquarters reaffirmed Tsai's statement that the progress of the IDS is on schedule: the first phase was completed in March 2019 and duly reported to the Legislature Yuan in March and the Control Yuan in April. Under the supervision of these two government branches, it is expected that the first submarine will be launched in 2024. In addition, the Keelung Submarine Park is also scheduled to attract foreign investment and technology transfer to promote the development of the domestic industry and provide local job opportunities.
Similar to missiles, submarines can effectively deter China's intention to invade. In May 2019, Tsai again expressed the importance of submarines and her administration's determination to develop indigenous defense systems. "Submarines not only can build up our asymmetrical power but also will more effectively deter patrols of the enemy ships," the president declared. In asymmetrical warfare, indigenous submarines will largely improve the navy's combat capabilities. The defense vulnerability in the southwest waters of Kaohsiung Port will be strengthened significantly if Taiwan possesses indigenous submarines, which can help Taiwan soon gain the command of the sea. In the event of the outbreak of war, submarines would be able to quickly break through the Chinese blockade and deter Chinese troop transport ships, landing craft, and hovercraft from approaching Taiwan.
By having indigenous submarines, along with F-16Vs and missiles, Taiwan will have better capacity to defend itself. But currently the Taiwanese navy only has four submarines. Two were built before the end of World War II and purchased from the United States in the 1970s, which the navy uses strictly for training purposes only. The other two, bought from the Netherlands in the 1980s, are growing increasingly difficult to resupply and maintain after over three decades. Moreover, the Netherlands stopped selling arms to Taiwan due to pressure from China. As Tsai has said, "This leaves us no choice but to build our indigenous submarines."
During the Chen Shui-bian years, U.S.-Taiwan relations were undermined by the failure to pass the special budget for U.S. arms sales, including eight diesel-electric submarines. This failure was due to the opposition KMT's repeated boycotting of this budget thanks to its majority in the Legislative Yuan. When Ma wanted to restart the arm sale negotiations in 2008, the United States did not give the green light to Taiwan. Fortunately, under the Tsai government, as Foreign Minister Joseph Wu said, Taiwan's relations with the U.S. have reached their strongest point. In June 2017, Washington officially agreed for Taiwan to have and integrate the MK 48 heavyweight torpedoes into its two submarines from the Netherlands along with preceding UGM-84L Harpoon missiles. In April 2018, Taiwan finally got the go-ahead from the U.S. State Department to obtain export permits for key technologies required for the IDS, indicating much closer collaboration between the United States and Taiwan on submarine construction. The IDS project also attracted 15 defense industrial vendors from across Europe and the U.S. to build partnerships with Taiwan's Ministry of National Defense.
Of course, none of this guarantees that the IDS project can be carried out successfully. For instance, Australia has expended almost 30 years and an enormous amount of treasure in the pursuit of domestically-built submarines. Tzu-yun Su, executive director of the Center for Advanced Technology at Tamkang University, said the biggest current challenge for the ISD is systems integration, though he nevertheless maintains an optimistic outlook on Taiwan's chances of success. As the DPP legislative candidate Enoch Y. Wu said, national security issues should by no means be partisan and subject to a political agenda. Indeed, it is crucial for politicians in countries like Taiwan, facing enormous pressure from a neighboring country and under the threat of asymmetric warfare capabilities, to be unified and supportive when it comes to national defense issues, irrespective of political ideology and background.
Yawen Tsao is a Research Assistant at Taiwan's Democratic Progressive Party (DPP) Mission in the U.S.