US Sports Stakes in China: Deals Vs. Democracy
Insights from Andrew Brandt.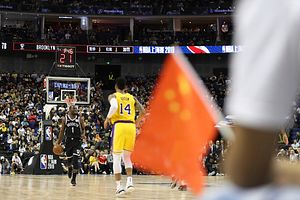 Trans-Pacific View author Mercy Kuo regularly engages subject-matter experts, policy practitioners, and strategic thinkers across the globe for their diverse insights into U.S. Asia policy. This conversation with Andrew Brandt – Professor of Practice and Executive Director of the Moorad Center for the Study of Sports Law at Villanova Law School; columnist for Sports Illustrated and The Athletic; and vice president of the Green Bay Packers from 1999 – 2008 – is the 213th in "The Trans-Pacific View Insight Series." 
Should the U.S. sports industry and American sports celebrities represent U.S. national ideals and values? Explain.
This is a tough question but generally yes. Top athletes are held to a high standard to be role models and represent the best of morals and value.
How might the National Basketball Association (NBA) have more effectively managed messaging amid the media and public firestorm reactions to Houston Rocket Daryl Morey's tweet and Los Angeles Lakers LeBron James' related remarks?
They perhaps should have had a better plan going in, with anticipating a player, coach, or executives supporting some of the same values that many of them have supported in this country. After the tweet it was too late, and we were on to damage control.
Basketball is a lucrative business in China – explain the risk and reward trade offs of U.S. sports deals in China.
China is an important market for all American sports leagues and sports business, but especially for the NBA due to the popularity of basketball there and the population. More people (total) watched the NBA Finals in China than in the United States.
From U.S.-China ping-pong diplomacy in the 1970s to the current NBA China debacle, is it still possible for sports to serve as a form of people-to-people diplomacy between the United States and China?
I am not a politician but do believe in the power of sports to unite and break down barriers. It has been proven time and time again and will be proven again.
Explain the market and brand impact of the NBA's relations with China if the political environment in Hong Kong worsens. 
My sense is that all of the damaged relations will be temporary and not have a long-term effect. As all things, this too will pass and there will be continuing productive and lucrative business done between the NBA and China.