A Manufacturing Exodus in China—Fact or Fiction?
Is China scrambling to stem a manufacturing exodus as the trade war continues?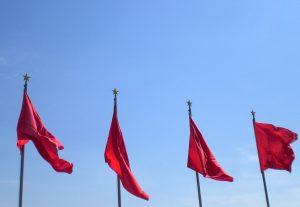 The U.S.-China trade war has now dragged on for more than a year, and a preliminary trade deal between the two sides appears to be on the brink of being reached soon. An initial trade deal could involve a rollback of tariffs that has been slapped on roughly $360 billion worth of Chinese goods and $160 billion worth of Chinese imports.
Even if the deal is "millimeters away," many would agree that the intense rivalry has caused considerable impact on China's economy, among which shaking Beijing's leading manufacturing sector is the most striking. Manufacturers are considering leaving China, but the scale is not that large, and it is not all because of the trade war.
Polls reveal some of the trends with respect to manufacturing relocation. According to the Nikkei Asian Review, more than 50 multinationals are rushing to escape the punitive tariffs placed by the United States. Report shows that Apple has called on major suppliers to consider moving 15 to 30 percent of iPhone production out of China and the trial production of its popular AirPods has started in Vietnam. HP and Dell are thinking of moving up to 30 percent of their notebook production in China to Southeast Asia and elsewhere. Microsoft, Google, Amazon, Sony, and Nintendo are also planning to move some of their manufacturing out of China. Other companies including Lenovo Group Ltd., Acer Inc. and Asustek Computer Inc. are evaluating their options. In addition, Chinese manufacturers, as well as those from the United States, Japan, and Taiwan, are part of this trend. In a poll released by the American Chamber of Commerce earlier, roughly 40 percent of 250 surveyed firms said they were "considering or have relocated manufacturing facilities outside of China."
China's official statements suggest a milder shift. At the press conference of the National Development and Reform Commission, spokesman Meng Wei responded to the remarks that "trade frictions have caused China's industrial and supply chains to move abroad." She said that currently the scale of China's manufacturing relocation is not large and it is mainly composed of low-and-medium-end enterprises. Meng also mentioned that some companies that have moved abroad are returning to China as they are not accustomed to the local environment. "In general, there is no sign of massive manufacturing shift out of China," says Zong Changqing, senior officer of the Ministry of Commerce of China. "It is true that in a few eastern coastal areas, some outward-oriented and low-value-added foreign-invested enterprises have experienced transfer of production to the outside, yet this is the result of market mechanisms."
Purchasing Managers' Indexes (PMI) are economic indicators derived from monthly surveys of private sector companies. An index reading over 50.0 indicates an improvement, while anything below 50.0 suggests a decline. According to data released by the National Bureau of Statistics, after continuing contraction in the past six months, China's manufacturing PMI rebounded to 50.2 in November, with sub-gauges showing that domestic and overseas orders increased. Furthermore, the Caixin-Markit PMI, which mainly surveys on middle and small size private-run enterprises, demonstrates the index reading as 51.8, reaching the highest since December, 2016, similarly due to the increase of new orders and overseas orders.
Indeed, the increase of tariffs has motivated companies to pull production out of China. Nevertheless, the transition and upgrading of China's manufacturing appear to be the underlying cause. The percentage of China-leaving businesses surveyed by quality control and supply chain auditor QIMA was 80 percent for American companies and 67 percent for those based in the European Union. However, European companies are less affected by the trade war because their countries have not slapped tariffs on Chinese imports. They have their own reasons to reduce their dependence on China manufacturing, with most diversifying throughout southeast Asia and closer to home.
Similarly, as Hannah Anderson, global market strategist at J.P. Morgan, remarks, "Businesses moving supply chains out of China long predates the current trade dispute… very few companies hadn't thought that far ahead already." Rising labor costs have been driving factory emigration from China since long before the trade disputes were a factor. A report released by TSR, a Japanese marketing research company, illustrates that both low labor costs and huge consumer markets are the key reasons why Japanese companies favor China. Thus, Japanese companies are more worried about the decline in China's economic growth and the shrinking domestic demand caused by it, rather than the fluctuation of China-U.S. relations.
China's leading position in manufacturing has been preserved for various reasons, including its well-developed infrastructure, relatively complete supply chain, huge domestic consumer market, and competitive exporting capability, etc., which are difficult to be surpassed by countries in Southeast Asia and South Asia in a short term. As a result, the ongoing trade friction between China and the United States would likely worry foreign manufacturers to some extent. Yet the relocation of factories is more likely the mainstream trend, thus illustrating China's transition in the global supply system.
Dingding Chen is the President of Intellisia Institute, an independent think tank in Guangzhou, China. Yu Xia is an assistant research fellow at Intellisia.