Boris and Post-Brexit UK-China Relations
Insights from George Magnus.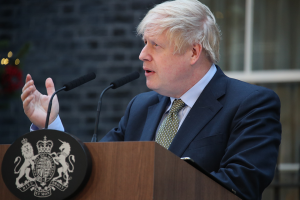 Trans-Pacific View author Mercy Kuo regularly engages subject-matter experts, policy practitioners, and strategic thinkers across the globe for their diverse insights into U.S. Asia policy.  This conversation with George Magnus – Research Associate at China Centre, Oxford University and the School of Oriental and African Studies in London and author of Red Flags: Why Xi's China is in Jeopardy (Yale University Press 2018) – is the 217th in "The Trans-Pacific View Insight Series."
Identify three critical outcomes of the U.K.'s recent elections and their impact on the U.K.'s regional and global influence.
The Conservative Party managed to move a mountain in the recent election, winning its biggest parliamentary majority since 1987 under Margaret Thatcher. The immediate result after three years of rancorous Brexit struggles is that Britain will finally leave the EU early next year and begin a short or possibly longer transition period during which a trade agreement is supposed to be negotiated with the EU.
For the U.K., big challenges await. Trade agreements are normally about aligning commercial regulations and interests. This is about how far to unhinge them since they are already aligned. Beyond this, the U.K.'s external relations will all have to re-booted and reframed. The immediate priority is the relationship with the EU.
The government will have to pay attention to at least two other major urgent outcomes. One is the possibility of constitutional crisis in view of the electoral success of nationalists in Scotland and Northern Ireland, especially a second independence referendum for the former. The other is how the U.K. looks to pursue its interests on its own in building new commercial and political relationships abroad, especially with the U.S. and China.
How will Boris Johnson advance relations with the United States?
Johnson is unquestionably partial to the U.S., and to President Trump. Normal security and related relationships will continue but Johnson wants a trade deal with the U.S., already the U.K.'s biggest single trade partner. Sensitive agricultural and healthcare sector issues will be up for discussion. Johnson will also have to align the U.K.'s cybersecurity and telecommunications sector interests with the U.S. and other Five Eyes partners, especially as these relate to the Chinese firm Huawei and the 5G rollout. If he doesn't, he might not get his sought-after trade deal.
Describe the direction of U.K.-China relations under the leadership of Boris Johnson.
The U.K.-China relationship has been up and down in the last few years but has certainly cooled as the two countries don't see eye to eye over what is happening in Hong Kong, or broader national and maritime security matters in the South China Sea. I think that the relationship is now marking time in a dialed-down state. A survey of about 240 U.K. companies in China recently reported, moreover, a decline in optimism about doing business there, amid growing tensions over cybersecurity, corporate finance issues faced by foreign firms, and competitive disadvantages relative to local firms.
Johnson will almost certainly try to rev the relationship up with a view to getting a trade deal. The proof of the pudding, though, will be how far he will go draw the line at possible Chinese threats to U.K. technology and national security. In this respect U.S. leverage could count for a lot.
How might London strategically position the U.K. amid rising U.S.-China-EU trade tensions?
The U.K. isn't really engaged in the narrowly-defined U.S.-China trade war. Yet, to the extent this is a catch-all for a potpourri of tensions covering such things as China's industrial and technology policies, intellectual property protection, cybersecurity and trade secrets, and forced technology transfer, U.K. firms in China are as engaged as U.S. and other foreign firms. And the U.K. will probably be under pressure to and indeed should align its telecommunications and high-tech sector interests with the U.S. and other allies.
Until now U.K. firms have been members of the EU Chamber of Commerce, a large and influential lobbying and research organization in the mainland. After Brexit, they will have to paddle their own canoe in a smaller British Chamber of Commerce.
The British will want expanded volumes of Chinese trade and be prepared to offer London and its financial services industry as an opportunity for China to further its own interests in pitching Chinese banking and currency services. This may be all the truer if the trade war spills into financial or U.S. dollar sanctions against China, obliging the latter to look elsewhere for financial business opportunities.
With the U.S. presidential elections in 2020, in which strategic areas will U.S. and U.K. strategic interests converge and diverge vis-à-vis China?
Whether there is a change of occupant in the White House at the end of next year or not, I do not imagine the climate in Sino-U.S. relations is going to get materially better or friendlier. An adversarial relationship has set in for the foreseeable future. The Brits and the Americans will continue to share a wide range of common economic and security interests.
Yet the potential for friction doubtless exists. The British have traditionally been in favor of open and free trade, to which America First-type policies are the antithesis. They have a more nuanced approach to the balance between capitalizing on trade and investment opportunities with China and drawing red lines when it comes to national security. For Britain, Brexit may exacerbate the friction as the government searches to uncover new commercial opportunities.
In the end, the nature of Prime Minister Johnson's relationship with the White House is more about form than substance, something we would not have been able to say if his opposite number in the Labor Party had won.