New Freedom-Class Littoral Combat Ship Completes Acceptance Trials
The future USS St. Louis completed acceptance trials on Lake Michigan this month.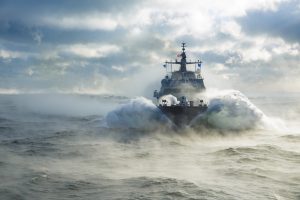 The U.S. Navy's latest Freedom-class littoral combat ship (LCS), the future USS St. Louis (LCS 19), successfully completed acceptance trials on Lake Michigan this month, according to a statement by U.S. defense contractor Lockheed Martin.
Acceptance trials are the last major step before delivering a warship to the U.S. Navy. They are conducted by the Navy's Board of Inspection and Survey, the service's main organization inspecting and reporting on a vessel's readiness for active duty operations.
The future USS St. Louis is the tenth of the Freedom-class variant and the 24rd LCS overall. The new warship, laid down in May 2017, is slated to be commissioned early next year.
"The LCS fleet is growing in numbers and capability, and LCS 19's completion of acceptance trials means the Navy will shortly have 10 Freedom-variant fast, focused-mission ships in the fleet," said Joe DePietro, Lockheed Martin vice president and general manager for Small Combatants and Ship Systems.
LCSs are divided into two separate variants, the trimaran hull Independence and mono hull Freedom classes. Ships of the Freedom-class variant are built by a Lockheed Martin team at Marinette in Wisconsin, while production of Independence-class LCSs is led by Austal USA in Alabama.The Austal and Lockheed Martin shipyards are each capable of building two LCSs per year. As I noted previously:
[W]ith 40 percent of the hull reconfigurable, both LCS variants use an open architecture design, enabling the warships to be fitted with interchangeable so-called mission packages providing capabilities for surface warfare (SUW), anti-submarine warfare (ASW), and mine countermeasures (MCM) missions in the littoral zone. The ASW warfare package is expected to become available to the fleet in 2019, while the MCM package will be available in 2020.
Furthermore, I explained:
Next to the different packages, standard armament of a Freedom-class LCS comprises a 11-cell Raytheon RIM-116B SeaRAM missile-defense system, a 57-millimeter naval gun, and Mark 5o torpedoes. LCSs of both variants are also slated to be equipped with the Surface-to-Surface Missile Module (SSMM), a 24-shot vertical launch system designed to engage surface targets with AGM-114L Longbow Hellfire missiles and which is part of the SUW mission package.
Lockheed Martin has also been working on improving the combat capabilities of both LCS variants in a two-phased plan. According to a January 2018 report by the Pentagon's office of Operational Test and Evaluation neither the Independence nor Freedom variants are suitable for high-intensity combat.
"Survivability testing and preliminary analyses on both LCS variants continue to demonstrate that neither LCS variant is survivable in high intensity combat," the report note. "Although the ships incorporate capabilities to reduce their susceptibility to attack, testing of analogous capabilities in other ship classes demonstrated that such capabilities have limited effectiveness in high intensity combat."