Pope Francis Preaches Anti-Nuke Message in First Japan Visit in 38 Years
Pope Francis brought recognition to Japan's "hidden" Christians while bearing pro-refugee and anti-nuclear messages of peace.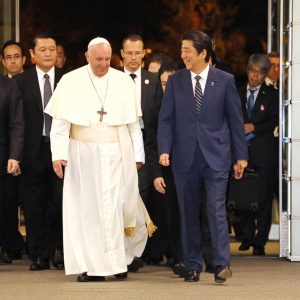 Pope Francis concluded his historic four-day visit to Japan, which saw him preaching anti-nuclear messages to Japan's minority Christians. The Pope paid tribute to the victims of Japan's Fukushima nuclear disaster while also touring ground zero of Hiroshima and Nagasaki, the only two cities to have been hit by nuclear weapons.
In Japan there are 1.26 million Christians, who make up 1 percent of the population.
Japan has a dark history of religious persecution, where tens of thousands of Christian missionaries and followers were tortured and executed for their loyalty to Christ instead of the Buddhist Shogunate rulers. After the faith was outlawed in the early 1600s, Christians were driven into hiding and forced to worship in secret, thus earning them the moniker of "hidden Christians."
Prime Minister Shinzo Abe first extended an official invitation for the Pope to visit in 2014, while Abe was on a visit to the Vatican. The recent tour by Pope Francis was the first papal visit in 38 years, following St. John Paul II in 1981.
At St Mary's Cathedral in Tokyo the Pope held a youth mass where he offered a sympathetic message toward refugees, calling their exclusion "cruel" and "elitist." The address was attended by five refugee applicants and one refugee student.
In contrast to other developed nations Japan's refugee intake is dismal, having granted just 42 applicants refugee status last year. Japan maintains that strict refugee screening is needed to sort out the majority of "fake refugee" applicants.
Pope Francis called on Japan to play a larger role in the global refugee crisis. He appealed for people to change their attitude toward victims of conflict, urging Japanese to "give friendship to those who have experienced hardships and who are seeking refugee in your country." He expressed his hope that Japan will become a more "tolerant society showing respect for the dignity of people who are coming looking for understanding and love."
While his message inspired some, some people criticized the Pope's pro-refugee remarks on social media. A hashtag in Japanese meaning #acceptrefugees gained traction last week, labelling the Pope's advice as contradictory to Italy's attitudes toward refugees. Others called a policy change "absolutely impossible," saying Japan needed to address the negative image of refugees first and build an appropriate support system.
During a 25-minute meeting with Abe, Pope Francis touched on conflicts between ethnic groups and nations, reiterating that "dialogue is the only way for humans and can guarantee permanent peace." He also branded the use of nuclear weapons as unethical, saying nuclear power used for war is nothing but a crime. The Pope said he would like Japan to lead the way in denuclearization, as the only country to suffer from nuclear bomb attacks.
Abe also expressed a similar sentiment, promising that "we will continue to strive to bridge between nuclear and non-nuclear weapon states, and to encourage dialogue with both parties."
As the highest authority of the Catholic church, Pope Francis has launched a persistent campaign for nuclear disarmament appealing to a world without nuclear weapons.
The 82-year-old Argentinian Pope is a member of the Jesuits, founded by Francisco Xavier, who introduced Christianity to Japan in 1549. Xavier first landed in Japan's southernmost island of Kagoshima, eventually turning Nagasaki prefecture into the center of Christianity in Japan. Pope Francis has said that upon initially joining the Jesuit religious order he wanted to be dispatched to Japan as a missionary, but his plans were postponed due to illness.