Report: China, Russia Have Draft UN Security Council Resolution Proposing Sanctions Relief for North Korea
The resolution would relax economic constraints on North Korea.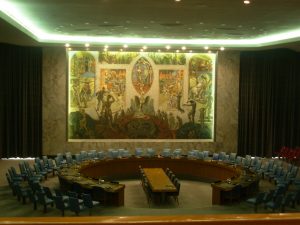 China and Russia are preparing a draft United Nations Security Council resolution that will propose a wide-ranging package of sanctions relief for North Korea, according to a Reuters report on Monday. The draft resolution is set to propose relief for North Korea from sanctions imposed by previous Security Council resolutions, including those on Pyongyang's exports of seafood, statues, and textiles. The draft resolution would also loosen restrictions on North Korean laborers overseas and support exemptions for inter-Korean projects.
For now, it's still uncertain when the vote might be tabled for a vote in the Security Council. China and Russia, both permanent members of the Security Council, would need an affirmative vote or abstentions from the United States, United Kingdom, and France—the other three permanent members—for the resolution to succeed. It is unlikely that these countries will support sanctions relief for North Korea. The resolution would not require any specific nuclear disarmament steps by North Korea too, effectively rewarding Pyongyang for its two years of restraint from nuclear and long-range missile testing.
A spokesperson for the United States Department of State rejected the Sino-Russian sanctions relief proposal, according to South Korea's Yonhap News Agency. "Now is not the time for the U.N. Security Council to consider offering premature sanctions relief," the spokesperson told Yonhap in an email. "The DPRK is threatening to conduct an escalated provocation, refusing to meet to discuss denuclearization, and continuing to maintain and advance its prohibited weapons of mass destruction and ballistic missile programs," the spokesperson added.
Last October, at a meeting between the second-highest-level foreign ministry officials from Moscow, Beijing, and Pyongyang, the three sides arrived at a trilateral determination that international sanctions against North Korea should be "adjusted." China's foreign affairs vice-minister, Kong Xuanyou, Russia's deputy foreign minister, Igor Morgulov and North Korea's foreign vice-minister, Choe Son Hui, participated in the discussions then.
For a while, one puzzle, however, was that the trilateral October 2018 determination did not translate into leader-level commitments at the Kim-Xi and Kim-Putin summits that followed, suggesting that neither Beijing nor Moscow was prepared at the time to commit diplomatic capital at the United Nations to formally promoting a new resolution adjusting sanctions.
That appears to have changed recently — perhaps as a result of a spate of statements coming out of North Korea suggesting that Pyongyang is prepared to take a more hardline stance toward the United States in the New Year and possibly even before.
A statement at the United Nations last week by China's envoy, as I discussed last week, perhaps foreshadowed the joint Russia-China Security Council resolution. That statement followed North Korea's announcement of a "very important" test at its Sohae Satellite Launching Ground, suggesting that North Korea's increasing move toward potentially staging a major long-range missile launch may have catalyzed Moscow and Beijing to take action on sanctions relief on an expedited timeline.
Sanctions relief has been a key demand for North Korea. In Hanoi, North Korean leader Kim Jong Un offered to dismantle plutonium and highly enriched uranium in exchange for the lifting of several clauses across five Security Council resolutions passed in 2016 and 2017. China and Russia supported sanctions on North Korea after major missile tests and nuclear tests in those years, but sustained diplomatic efforts by Pyongyang have evidently won support in both Moscow and Beijing for sanctions relief.