What's Behind North Korea's Missile Testing?
The recent barrage of missile tests by North Korea is part political signaling, but it also has clear military and economic motivations.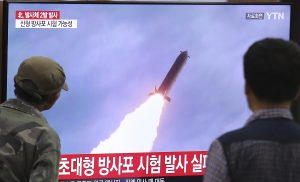 A fair case can be made that North Korea's launch of two short-ranged missiles on November 28 – its 13th missile test since May — was a political attempt to signal displeasure with the crushing economic sanctions that have been placed on Pyongyang by the United Nations Security Council (UNSC) since 2016. As North Korea's mercurial leader, Kim Jong Un, has publicly given the United States until the end of 2019 to introduce new and substantial concessions involving sanctions relief in return for denuclearization steps on Pyongyang's part, the destabilizing missile tests serve as political signaling to remind Washington to take this ultimatum seriously.
But inasmuch as Kim's political motivations are relevant, the military and economic implications of the recent short ranged missile tests also deserve attention, for they highlight the North's constraints and indicate further antagonism.
According to weapons experts, the KN-25 missile, the mainstay of North Korea's most recent tests, is a short-ranged ballistic missile with a range of 380 kilometers. Based on images provided by Pyongyang's media, four of these missiles can be transported on and launched from a Transporter-Erector-Launcher (TEL) wheeled vehicle. Militarily, the KN-25 and its "four-shot" TEL represent a heightened threat from North Korea. Previously, the longest ranged multiple rocket system available to North Korea was the KN-09, which had a 200 km range, leaving it unable to reach the lower parts of South Korea. With the KN-25, Pyongyang now has the capability to subject all of South Korea to missile barrages without resorting to singularly launched medium-range missiles like the Rodong-1 or Hwasong-7.
Additionally, unlike the fixed or towed artillery that constantly target Seoul, the KN-25 system can move and hide as soon as it fires all its missiles, drastically reducing the accuracy of retaliatory fire from the ROK-U.S. alliance. As seen during Operation Desert Storm in 1991, the United States had a very challenging time hunting down mobile Iraqi Scud missile TELs. The South Korean and U.S. militaries will also have a similarly hard time dealing with the KN-25 system.
However, despite Pyongyang's aggressive stance and bellicose language — the North's official media even threatened Japan with long-range missile launches in response to criticism from Prime Minister Shinzo Abe — the fact remains that the Kim regime is operating from a position of weakness and vulnerability. The Songun or military first policy notwithstanding, the conventional air, sea, and land components of the Korean People's Army (KPA) have infrequent training due to fuel shortages, and their equipment is at best outdated and at worst decrepit. Arguably, North Korea's nuclear weapons and missile technology like the KN-25 do not fulfill the role of force multipliers (since the KPA does not have a sufficiently modern capability base to enhance), but rather serve as remedial force compensators, because the inevitable defense modernization of the ROK and U.S. militaries will eventually render the KPA's conventional capabilities irrelevant. Hence, the Kim regime possibly sees its missiles and nuclear arms as the only pathway to assure deterrence and remain internationally relevant.
Concerning the North Korean economy, its persistent weakness and stagnation may have a likely and indirect effect on Pyongyang's missile testing decisions. Based on the response of the five permanent members of the UNSC, who have chosen not to persecute North Korea for its 13 recent missile tests, there appears to be an unsaid consensus that short-range tests will be tolerated. Despite the aforementioned threat against Japan, it would be fair to say that Kim Jong Un might be having second thoughts about escalating the antagonism with long-ranged missile tests and/or a nuclear detonation. Testing and breaking the patience threshold of the UNSC would certainly invite a tightening of already crushing sanctions or more zealous enforcement of present sanctions. These could force the North's economy into a serious depression, endangering the Kim regime's survival.
Having examined the pressures affecting Kim and his advisers, it can arguably be concluded that the short-ranged missile tests will continue or become more frequent. With the dark clouds of impeachment gathering over U.S. President Donald Trump's head, Trump will have even less attention to spare toward North Korean denuclearization negotiations, leading Kim to "up the ante," so to speak, with more sensationalist displays of short-ranged missile antagonism.
In the months ahead in 2020, we might even witness the introduction of new prototype weapons designed to compensate for the KPA's shortcomings, such as armed unmanned aerial vehicles and even cruise missiles based on smuggled reverse engineered technology. Due to the severe economic consequences from another nuclear test or long-range missile launch, these are unlikely.
Lastly, while Trump holds the key to the denuclearization deadlock with Kim, the unpredictability of both parties and the need to plan for the worst-case scenario while safeguarding South Korean national security leads to a single policy recommendation for Seoul: the concurrent maintenance of cautious diplomacy along with a beefing up of anti-missile and anti-rocket air defense capabilities.
Liang Tuang Nah, Ph.D., is a Research Fellow of the Military Studies Program at the Institute of Defense and Strategic Studies, a constituent unit of the S. Rajaratnam School of International Studies (RSIS), Nanyang Technological University.